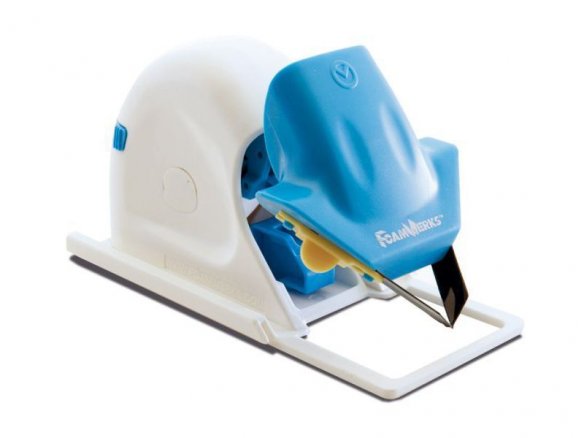 Cutter for exact V-groove cuts and 45° passepartout cuts in sandwich panels with 3 – 10 mm thicknesses, plastic housing with flexible cutting head, adjustable blade depth, on-board blade storage drawer, blade holder with set screw and magnetic blade slot for positioning help, can be used with Logan Adapt-A-Rule straight edge
The FoamWerks V-cutter has two 45° blades with which you can cut a V-shaped groove in sandwich panels. This function is particularly handy when, for example, you want to attach, by means of a mitre cut, two walls to one another at 90° in an architectural model without a rough foam edge being visible. If you adjust the blade depth of the cutter such that the paper cover layer on the underside of the sandwich panel remains intact, the board, after the cut, can be bent and glued in such a way that two surfaces come together at a 90° angle and the remaining paper cover layer serves to cover up the resulting outer edge and provide a clean look. Another example of an application of this device is as follows: if you cut a series of V-grooves very close to one another in a board it can then be quickly and easily bent into a round shape. Additionally, if you only put a blade in one side of the blade holder you can easily make 45° passepartout cuts in sandwich panels.
The cutter, which has a large base, can be used with every type of straight edge; best, however, is the Logan Adapt-A-Rule straight edge that has a guide groove within which you can engage the V-cutter on both the right and left sides. The depth of the blade can be continuously adjusted to the required level. Before making your final cut in a board, you should definitely make a test run on a spare piece of board and adjust the blade depth accordingly – this is especially recommended when you plan to leave the bottom paper cover layer intact.
The right replacement blades, Type WC, can be found under Foamwerks replacement blades.
You should always use a scrap piece of foam board underneath the piece you are cutting. The cutting mats made out of PVC that we usually strongly recommend as cutting underlays are too hard and too dense for use with the sensitive blades in FoamWerks tools.
Foamwerks V-groove cutter WC-2001, incl. 5 blades WC
Note
The cutter comes with 2 cardboard dummies in the blade holder; remove these and replace them with the real metal ones found in your package.