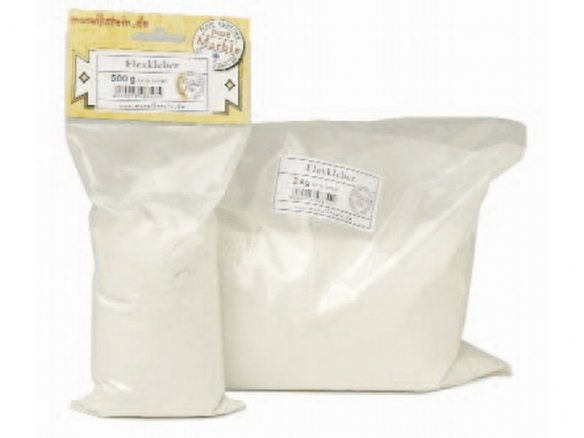 flexible adhesive in powder form for glass, Ceraton, marble and ceramics; just add water, white, for interior and exterior (frost-resistant), approx. 30 minutes working life, needs 2.0 kg for 1.0 m², C2 quality, hazard warning: Xi irritant
Description
Hazard warnings
Flex-glue is a flexible, pure white, frost-resistant tile glue in powder form to be used with Ceraton, marble and Murano glass. It is mixed with water, stirred and used in the production of mosaics lain on such substrates as pavement, cement and similar materials. This glue can be used on walls and floors both indoors and outdoors.
Danger, Portlandzement-Klinker (chromatarm TRGS 613) = 25 - < 50 %, Quarz = 3 - < 10 %, Eye Dam. 1, Skin Irrit. 2, STOT SE 3
Hazard warnings
H315: Causes skin irritation.
H318: Causes serious eye damage. (not needed beside H314)
H335: May cause respiratory irritation.
Safety instructions
P102: Keep out of reach of children.
P260: Do not breathe dust/fume/gas/mist/vapours/spray.
P301+P330+P331: IF SWALLOWED: Rinse mouth. Do NOT induce vomiting.
P303+P361+P353: IF ON SKIN (or hair): Take off immediately all contaminated clothing. Rinse skin with water [or shower].
P304+P340: IF INHALED: Remove person to fresh air and keep comfortable for breathing.
P305+P351+P338: IF IN EYES: Rinse cautiously with water for several minutes. Remove contact lenses, if present and easy to do. Continue rinsing.
P501: Dispose of contents/container to …
Flex-glue for mosaic
Note
A complete catalogue depicting all the available products can be found under: MURANO GLASS MOSAIC TILES, UNICOLOURED.