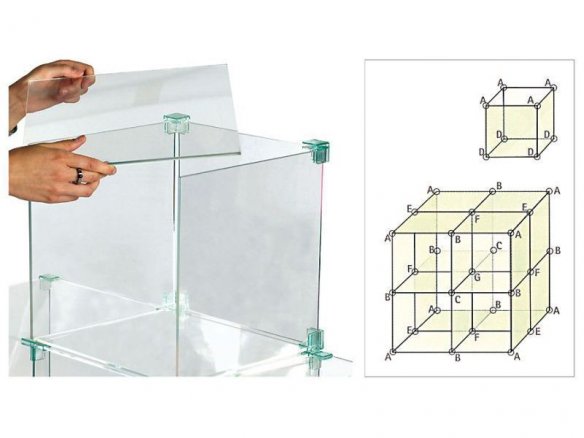 panel connector for 5 mm thick panels, polycarbonate, transparent, glass green, impact resistant, for fixed connections, insert depth (length of side piece) = 20 mm
Fisso Connector is a modular construction system for creating unique display cabinets by utilizing the connectors in conjunction with 5 mm thick panels. Choose the required pieces from the list and order your preferred panel type (e.g. ACRYLIC GLASS XT or FOREX CLASSIC) from CUSTOM CUTTING without remainders. The sample sketches can be of help in making your choices.
The connectors should be placed on the panels and carefully hammered home with a rubber hammer. Thus can flexible display cabinets or small shelves be made for a store, a display window or your house.
Please note that cast ACRYLIC GLASS GS is not suitable for use with the panel connectors because its thickness tolerances are simply too great.

Fisso Connector, for 5 mm panels
14 Variants