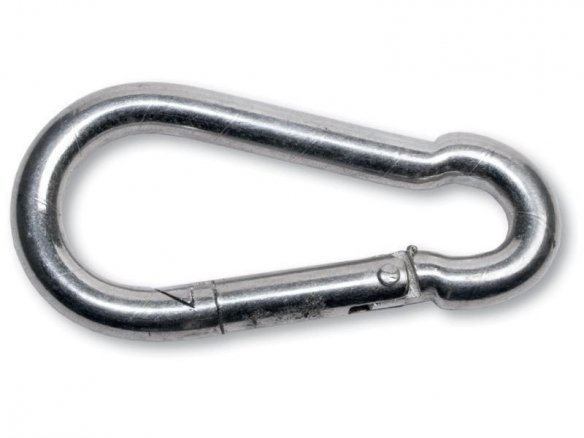 C shape, given dimensions: thickness of material x total length x maximum opening
The maximum opening of the hook gives you the maximum width (the maximum diameter, as the case may be) of the object that you want to hang on it.
The recommended maximum bearing capacity of the different snap-hooks is as follows:
4.0 x 40.0 x 6.0 mm, galvanized zinc coated steel = 10 kg
6.0 x 60.0 x 8.0 mm stainless steel = 120 kg
8.0 x 80.0 x 16.0 mm aluminium = no specifications*
*Aluminium snap-hooks are not designed for carrying heavy loads. Aluminium is too soft but, as compensation, very lightweight. Such hooks should be more used for things like key holders or pendants, as connectors and for carrying small loads.
Fire brigade snap hook
3 Variants