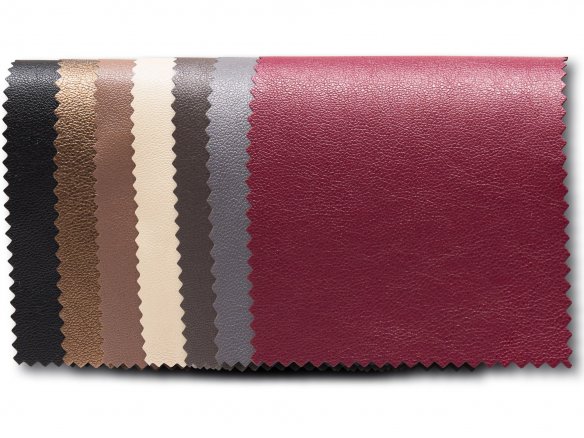 Material

60% polyurethane, 40% polyester

Weight

255 g/m²

Usable width

ca. 1370 mm

Thickness

th = 0,5 mm
In addition to wood, stone and wool, leather is one of the oldest materials to have been used to benefit mankind. Because of its versatility, leather is still today finding use in many areas on a daily basis. In the automobile industry, for example, great amounts are used for seat covers and interiors while its use for bags, clothing, shoes and furniture is well known. Leather, after all, is extremely durable and extremely tough. When appropriately treated, it can also be supple and soft. It is breathable while at the same time providing good insulation against heat and cold. All in all, it's a pretty great material.
Leather is made by tanning raw hides. They are "chemically and mechanically processed so that targeted attributes like resistance to rotting, permanent softness and resistance to temperatures" (according to G. Moog) are achieved. Tanning agents work by reacting with the hide's protein molecule (collagen), thereby preventing long-term decomposition.
In the case of vegetable tanned leather, plant-based material with high tannin content is utilized (e.g. oak apples, chestnuts, oak bark, beech bark and fir bark). In earlier times, traditional vegetable tanning would take months or even years to complete but nowadays the tanning process has been accelerated to the point that it only takes a few days.
In the case of mineral tanning, which replaced vegetable tanning sometime in the middle of the 20th century, it I mostly chromium (III) salts extracted from chromium ore that are used in the process. Because the process only takes a few hours, approximately 85% of all leather is chrome tanned.
Every piece of leather has two sides: The smooth grain side and the rough flesh side. The grain side is the side out of which the hair grows; this accounts for the fact that the pores are highly visible. The grain side undergoes different processes in order to produce different quality leathers like smooth leather, nappa leather or nubuck leather. These different processes do not effect its natural, characteristic grain pattern. Leather is often separated (split) into a number of layers. These layers are then used in the production of suede leather and split leather. When manufacturing split leather, the split side is finished off with an extremely thin coat of paint.
Processing: Leather laces (round, flat) can be cut with fabric or household scissors. A cutting blade (cutter, artist's knife, rotary cutter) should be used to cut full-grain or split leather straps; a steel straightedge and a cutting mat may also be required. Contact adhesive (e.g. PATTEX CLASSIC POWER GLUE) can be used for large area gluing work; for smaller areas superglue can be used (e.g. WEICON SUPERGLUE VA 1500, HIGH VISCOSITY). To glue leather to other fabrics, UHU TEXTIL is probably the best choice. The HEBEL LEVER ACTION REVOLVING PUNCH PLIERS 370 is the perfect tool for making holes from 2 to 4.5 mm in diameter. Larger holes should be made with a HOLE PUNCH - while smaller ones should be made with an AWL. When employing eyelets or rivet sets like, for instance, the ones from Prym, it should be noted that you will also need to get a HOLE PUNCH PLIERS or a simple HOLE PUNCH because the tools provided with the sets are not suitable for use with thick materials. For assembly or fabrication purposes, a hand impact tool or punching tool and a hammer or simply a VARIO EYELET, SNAPFASTENER and HOLE PUNCH PLIERS can be used. Appropriate sizes of eyelets or rivets for work on full-grain or split leather straps include EYELETS WITH WASHER, NICKLE-PLATED BRASS in diameters of 8, 11, and 14 millimetres; STEEL EYELET, BRASS COLOURED in lengths of 4.2 and 5.5 mm; or BRASS RIVET FASTENER, BICOLOURED. Sewing by hand can be nicely done using waxed leather yarn or the thicker saddler's yarn made of hemp or linen. In order to make sewing by hand that much easier, you can first punch the holes in the leather with and AWL or a HOLE PUNCH PLIERS. To join two pieces of leather – for instance when attaching a belt buckle – rivet fasteners can be used or you can use BOOKBINDING SCREWs if holes have been punched beforehand. Pigmented stamp paint (PELIKAN STAMPING INK 84, STAZON STAMP PAD FOR EVERY SURFACE) can be used for printing on your leather straps. In order to dye suede leather straps or to paint on roughened leather surfaces, a product like DALER-ROWNEY GOLDFINGER METALLIC PASTE, which comes in five different metallic colours, can be used with wonderful results.