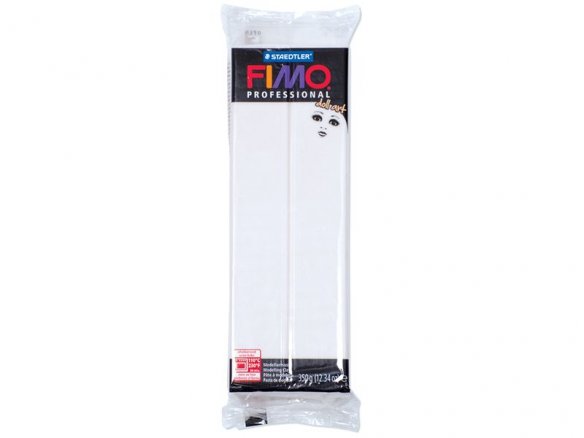 oven-hardening modelling material (30 minutes at 110 °C), lightfast, readily kneadable, comes in foil package
Fimo is a plastic-based, oven-hardening modelling material whose curing is irreversible. It is made up of dyed PVC and inorganic fillers like, for example, kaolin. It is distinguished by its excellent shape retention.
Fimo conforms to the European standards for toy safety (EN71, part 5) and is therefore allowed to display the CE certification mark. In addition, it has also received the American seal AP NON TOXIC. When cured, Fimo is sweat and saliva resistant as per DIN 53160. Fimo is the recipient of the Creative Impulse Lifetime Award and is available in a wide range of versions. At the specified curing temperature and time span, no harmful emissions are produced which means that Fimo, when used properly, can be classified as non-harmful to your health.
Even if Fimo is a great material for the expression of children's creativity (including small children), the manufacturer recommends that, because of the curing process having to take place in an oven, only kids over 8 years of age with adult supervision should be allowed to use it. It is, of course, a good "general rule" in the case of all "chemical toys" that they not be placed in the mouth and that hands should be thoroughly washed after playtime is over. Please note that oven-hardening Fimo cannot be cured in a microwave (compare in this regard: FIMO AIR MICROWAVE).
In terms of consistency, Fimo Puppet lies somewhere between FIMO CLASSIC and FIMO SOFT and can be mixed with both of those as well as with FIMO EFFECT. This material is perfect for making puppet bodies and heads and is therefore also used by professionals when making one-off puppets.
In order, for example, to make a puppet head, the Fimo Puppet clay is applied in a series of steps to a carrier material and cured after each application. A noodle machine can be used as a means of making large amounts of this material more malleable or ductile.
Fimo Modelliermasse Professional doll art 8028
2 Variants
Note
for children 8 years and older