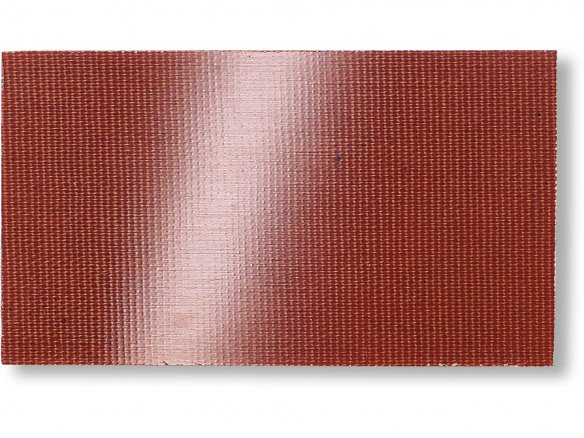 glossy/glossy, visible cotton layer in phenolic resin
Custom cutting available. Choose your desired size!
For more information about our custom cutting service, please visit Modulor Services.
Attributes: Fabric-base laminate is categorized as a duroplast. It consists of cotton fabric layers that are impregnated with phenolic resin. This produces a material that has a "rock hard" surface and low bending elasticity. Fabric-base laminate is enormously resistant to abrasion and wear, puts itself out when burning and is insensitive to cold.
Applications: Its classic arena of use is in machine construction: gearwheels and bearings made from fabric-base laminate can deliver high power at high speeds. Its aesthetic attributes make it an interesting material for creative uses as well. The phenolic resin gives the material a warm brown tone that, however, can vary from delivery to delivery. It has a semi-gloss and smooth surface and its top layer clearly displays the qualities of the fine cotton fabric. By virtue of its extreme sturdiness it can be used for making all kinds of interior furnishings.
Fabric-base laminate, brown custom cutting
2 Variants
standard sizes
custom cutting
Note
Before buying, please keep in mind that the brown tone of the fabric-base laminate can vary from sheet to sheet because of the nature of the production process. If you need a number of sheets with the same colour, please inform us of this requirement when ordering.