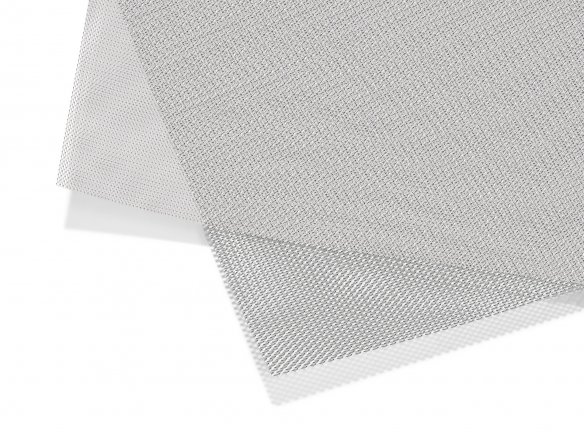 Fine mesh aluminium expanded metal can find many uses in architectural model making or as a decoration and handicrafts material because it is easy to work with and has a great look to boot.
The fine mesh aluminium expanded metal sheets can be easily cut with a SCISSORS or BLADE and can be glued with two component adhesives (e.g. ones based on EPOXY or CYANOACRYLATE); for model making RUDERER plastic glue or UHU HARD can be used.
Expanded metal is a rigid and non-ravelling metal that has been slit (offset perforations) and expanded (drawn) into an open mesh pattern. The mesh of the various grids are neither braided nor welded nor knotted; the junction point where four strands come together is called the bond. The expanded metal is, then, one sheet of metal which can be cut into any shape you want without losing its cohesion.

The given dimensions of expanded metal refer to the following sizes:

• Length of mesh: the distance from a point on a bond to a corresponding point on the following bond measured across the Long Way of Design
• Width of mesh: the distance from a point on a bond to a corresponding point on the following bond measured across the Short Way of Design
• Strand width: the width of the strand (the metal forming (between) the holes)
• Strand thickness: the thickness of the original material used in production
With actual numbers and in the order already mentioned, the designation will look like this: 3/1.8 – 0.6/0.5 describes a grid with a mesh length of 3 mm, a mesh width of 1.8 mm, a strand width of 0.6 mm and a strand thickness of 0.5 mm.
Expanded metal with very fine mesh is often defined by mesh length, strand width, strand thickness and the number of holes per running metre of material. If, therefore, you divide 1000 mm by the number of holes, you will know the mesh width.
Applications: The original uses for fine mesh expanded metal were as sieves and filters. A multiple number of expanded metal sheets stacked offset to one another, for example, serves as the filter of an exhaust hood in the kitchen upon whose cool mesh the frying grease in the outgoing air condenses. Larger mesh expanded metal are primarily used in construction or machine building where, for example, they can be found being used as trash baskets or protective grates.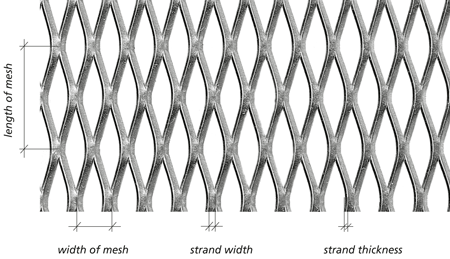 Expanded metal, aluminium, ultra-fine custom cutting
standard sizes
custom cutting
1,45/0,86-0,17/0,2 mm
2,50/1,35-0,34/0,4 mm
Note
The minimum order for products sold from rolls: 0.5 running metre. Please note that no exchange is possible in the case of products cut from rolls and pre-cut pieces.