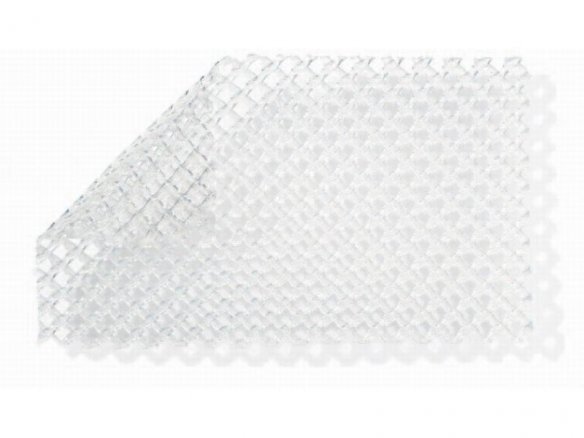 colourless, glossy, rectangular "mesh" diagonal to the running direction, mw approx. 2.5/1.0; approx. 540 g/m²
EVA (ethylene vinyl acetate) is a copolymer that is produced using PE as its base material. Through this modification, the elasticity is increased (rubber elastic attribute), it has better weather resistance and more resistance to ripping under stress; however, the process also results in less resistance to chemicals as compared to untreated polyethylene. EVA, when it is foamed through the use of a blowing agent, is also known as foam rubber; i.e. a pored rubber with mostly closed pores.
Our lattice mat is completely insensitive to water and can therefore be washed any time you like. In addition, it is also resistant to many solvents, grease and oil as well as able to withstand temperatures from -20° C to +80° C.
Lattice mats and sheets from PE or EVA are used during transport or storage as a protective covering for articles that have sensitive surfaces. Our EVA mat, by virtue of its transparence, can also be used as a decorative material, for handicraft work or as a view-blocking material.
Any cutting of the mat can be done with either a blade or shears. Attaching it to itself or to other materials can best be accomplished by using either rivets or screws.
EVA mesh mat, transparent, th = 1.5 mm, w = 1180 mm
Note
The minimum order for products sold from rolls: 0.5 running metre

Please note that the shipping and handling costs for orders of whole rolls can be higher because of the extra weight. Please contact us for details.

Please note that no exchange is possible in the case of products cut from rolls.