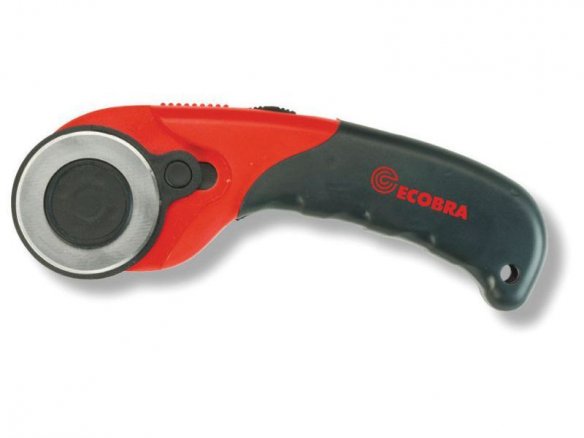 ergonomic plastic handle, rubberized (black, anti-slip), blade and guide can be changed to opposite side for left-handers, pull-off blade protection, 45 mm diameter round blade, hanging hole
The Ecobra rotary cutter has two features that make it special: one is the ergonomic rubberized handle that sits wonderfully in the hand and allows you to sure-handedly guide the cutter by either pushing or pulling it. But the second is most important feature: you can move the blade together with the blade guide to the opposite side of the cutter and thereby make it usable by a left-hander, who will then be able to view the blade when doing his cutting work.
The rotary cutter can be used on paper, thin paperboard and plastic film but also works extremely well on thinner materials like cloth, leather or latex. The cutter can be used to freely cut any shaped line you want – if you require a straight line, however, a STRAIGHT EDGE should be used in conjunction with a pushing or pulling movement. It is also important to employ a suitable CUTTING MAT under your work – for one, because it improves the precision of your cuts and, for two, it will preserve the sharpness of your blade for as long as possible.
The BR-45P blades of the NT rotary cutter RO 1000 GP can also be used as replacement blades for the Ecobra rotary cutter.
Ecobra rotary cutter for right and left hand use, incl. blade ø 45 mm
Accessories and Related Products