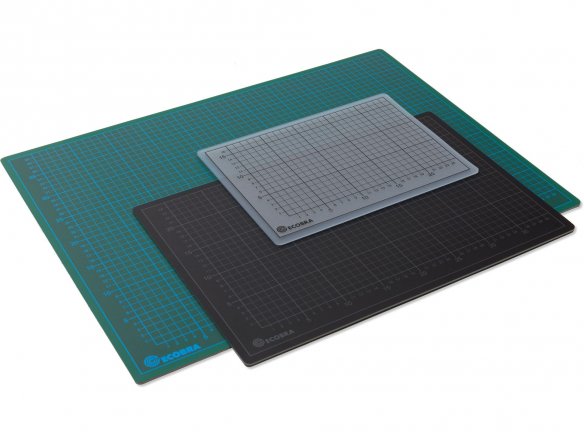 transparent: three-layered or in the case of the green/black version five-layered (each has a top layer of soft PVC and inner layers of rigid PVC), both sides with imprinted grid and cm graduation, th = 3.0 mm
These small cutting mats are incredibly practical for doing small very precise cutting work. Both sides can be utilized. Both sides of the green/black version have centimetre graduation and an imprinted grid. The translucent cutting mats, which only have a grid imprint on one side, can also be used well in conjunction with a light table.
Cutting mats are an indispensable aid for anyone working often with cutters and artist knives. On the one hand, they protect the table surface and, on the other, they help maintain the sharpness of the blade. In order to fulfill the many different requirements that can arise, we have on offer two quality types: a standard one and an especially high quality one.
The top quality mats are considerably thicker than the standard version and can therefore be used professionally as in, for instance, machine stamping work, without wearing out all too quickly. Though the green-black mats are described as three-layered because only three layers can actually be seen, there are in fact two additional layers. These five layers make these mats the perfect underlay for precise work with either a cutter or artist knife: the soft cover layer goes easy on the blade and the surface of the mat closes back up on its own after a cut has been made. This last attribute assures an especially long working life. The translucent cutting mat may only have three layers but its surface is made of comparable quality and it fundamentally shares all the other advantageous attributes of its colleague. What makes it really special, of course, is its translucence, which enables it to also be advantageously used on a light table.
Our small cutting mats are only available in the same high quality described above because their price is held in check by their size. The large mats in this high quality are produced in substantially fewer numbers and are relatively more expensive as a result. We therefore offer as an alternative, especially with the hobbyist in mind, the larger version in a standard quality that, by virtue of a new production line, is available for a less expensive price. These mats, which are three-layered as well, can be used on both sides for cutting jobs and, in addition, have a centimetre scale imprinted on one of the sides.
Please note: Cutting mats are only designed for vertical cuts (90° cuts). Slant cuts (45° cuts) will produce V-shaped notches which end up ruining the cutting surface. For PASSEPARTOUT CUTTERS, then, we recommend you use thick cardboard for your cutting subsurface (GREY BOARD or FINNBOARD).