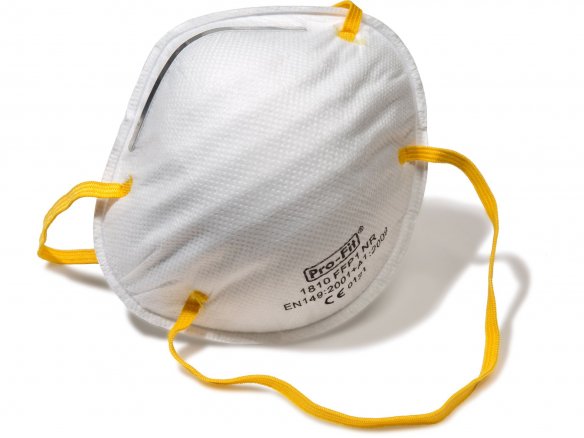 EN 149:2001, white, flexible outer nose frame, hard-wearing woven fabric on the inside, 2 rubber bands for attaching purposes, without exhalation valve, foldable, individually packed
Our dust/particulate mask provides a lightweight and reliable filter against harmful airborne substances. It carries the CE marking (indicates conformity to European Union health and safety requirements), has been tested as per the European norm EN 149:2001 and satisfies the requirements of the protection level FFP 1. This means that it provides a protection that is up to 4 times the MAK value (German abbreviation for maximum workplace concentration) which includes particulates like mist, fibres and dust.
Furthermore, it is distinguished by its low weight and high comfort when worn: the pre-formed body of the mask has a good fit, both head bands and the padded nose frame enable a perfect fit to be achieved even on the most unusually shaped face with the result that it can be worn comfortably for long periods of time. The hard-wearing inner woven fabric provides long term protection. Each mask is individually and hygenically packed.
Dust/Particulate mask Predection level FF P1