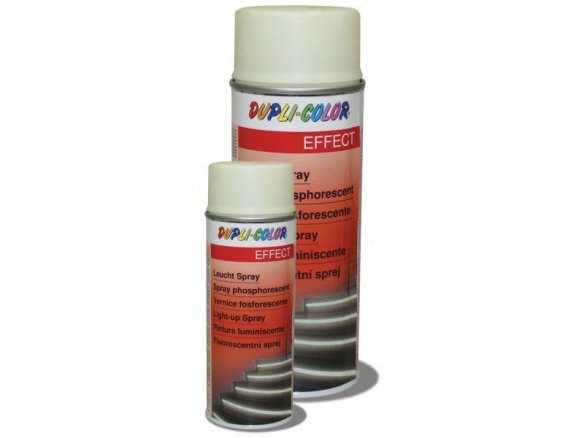 acrylic based special effect spray in an aerosol can, dust-dry after about 10 minutes, dry to touch after 1 hour, can be painted over with clear varnish after about 1 hour, temperature resistant up to about 80 °C, hazard warning: F+ (= highly inflammable)
Glow-in-the-dark paint "stores" light and then dispenses it again in the dark; in other words, this paint, eh, glows in the dark, giving off a toxic looking yellow-green colour. This type of phosphorescent pigmented paint is often used to illuminate light switches, fittings, stairs, emergency escape routes or dangerously protruding edges in the dark. It also has more fun applications like, for instance, as a way to create a shining night sky over a child's bed. The glowing effect will last in the dark for a number of hours depending on the intensity of the light the paint was exposed to during the day. Eventually it will become dark or will lose its effectiveness due to the reappearance of daylight!
But let's get back to the facts: This paint is only conditionally waterproof and is fade-resistant and UV resistant. CLEAR VARNISH can be applied over it in order to improve these characteristics along with providing a protective coat for your application, serving to prevent it from being rubbed away mechanically. Almost all light-coloured wood, metal, cardboard, stone or plastic surfaces can serve as substrates; treating a surface beforehand with DUPLI COLOR PRIMER will enhance the glow-in-the-dark effect. In the case of the above mentioned primer, we recommend preliminary tests to determine compatibility of your surface with the solvent content - you do not even need to think about testing polystyrene because it is definitely NOT compatible as is also true of PP, PE, POM and silicone (because of their low-energy surfaces the spray primer will not adhere to them).
The contents of the spray can (150 ml) are enough to cover approximately 0.2 to 0.4 m2 depending, of course, on the condition of the surface and the thickness of the eventual layer applied.
Dupli-Color glow-in-the-dark spray
2 Variants