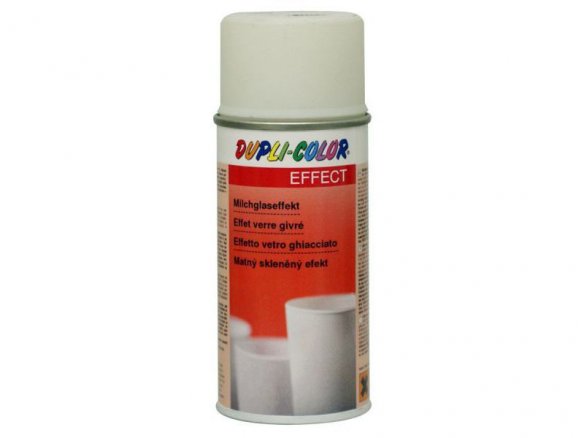 acrylic based special effect spray in an aerosol can, dust-dry after about 5 minutes, non-sticky after about 10 minutes, dry to touch after 30 minutes, completely cured after about 24 hours, temperature resistant up to about 90 °C, hazard warning: Xi (= irritant), F+ (= highly flammable)
Bottles, bathroom windows, mirrors or any clear plastic material – the frozen glass effect spray can transform any of these transparent materials into merely translucent ones. Or in other words: it takes away clear transparency from a material and changes it to an opaque one that still allows light to shine through. In the case of smooth surfaces like bathroom windows, this effect can also be accomplished by means of a LIGHT DIFFUSION FILM but, when confronted with a curved or rounded surface, applying such film flawlessly (no creases) is practically impossible. This is where this frozen glass spray comes into play whereby you can even control the amount of light diffusion by varying the number of coats you apply. Our transparent HEMISPHEREs and our POLYSTYRENE, PVC or ACRYLIC SPHEREs represent great examples of where this spray can be successfully used to completely or partially cover a transparent surface making it into an opaque one - where it is impossible to tell what lies within or behind it. And if you really want to get creative, CREPE MASKING TAPE or TEMPLATE FILM (stencils) can be used to mask off areas to make different shapes or motifs with your "ice".
When applied to a suitable surface, the sprayed area looks homogenous and clean right out of the can but, it should be noted, the resulting effect falls somewhat short of the fine surface found on a factory made satin-finished acrylic glass pane (e.g. SATINICE).
This translucent spray is not sensitive to water or conventional window cleaning agents but it can be removed from a sturdy surface by means of alcohol or a solvent. A plastic scraper can also be used to remove the spray coat from a smooth surface.
The contents of the spray can (150 ml) are enough to cover approximately 1 to 2 m² depending, of course, on the condition of the surface and the thickness of the eventual layer applied.
Dupli-Color frozen glass effect spray can 150 ml, colourless