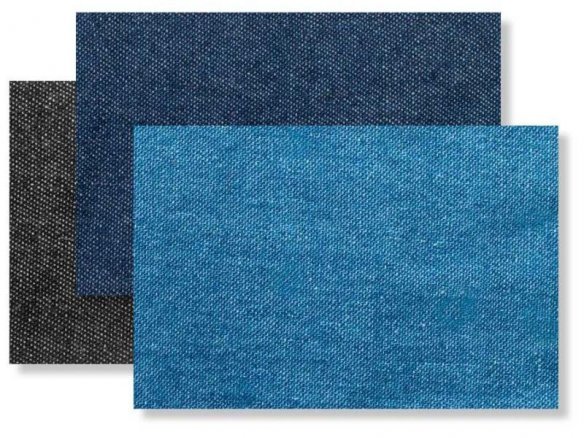 100% cotton, 200 g/m², yarn dyed, twill weave, machine washable up to 40 °C, effective width ca. 1500 mm, doubled over
In the middle of the 19th century, Franken Levi Strauss, who had immigrated to San Francisco, ran out of the light canvas material he had been using to make hardwearing pants for the gold diggers flooding the area. He decided to import an even more hard-wearing material from France, the "Serge de Nimes" (French for "woven fabric from Nimes") and this was the material that would go on to become the famous "Jeans" that we still know today. The name "Jeans", by the way, comes from the French name "Genes", which is their version of the port city Genoa that had earlier been the main exporting centre for cotton.
Denim is a robust twill weave cotton in which the dyed (mostly blue) warp threads are woven with undyed, white woof threads in such a way that a material with a fine diagonally striped texture that is darker on one side than the other results.
Our rather thin denim is particularly suitable for summer Jeans, clothing, dresses, etc. Unlike with thicker Jeans, a special Jeans needle is not needed for sewing – a standard needle size of 70 or 80 (American size 10 or 12) will suffice. Polyester thread is the most common choice.
Denim should be washed before working with it because it will shrink. Darker denim will tend to bleed a lot at first washing – it, and anything made with it, should therefore be washed separately.
Care tips:
Washing should be done with (organic) detergent that has no brighteners (Color detergent) or bleaching agents.
Wash by hand or machine at up to 30 °C; wash dark colours separately, do not machine dry, iron with lukewarm iron (110 °C).
Denim 200 g/mř (0500)
4 Variants
Note
Minimum order: 0.5 running meter