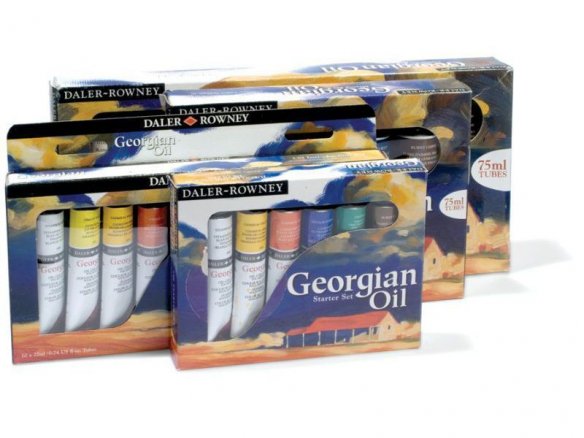 artist oil paint, vegetable oil based, pasty consistency, good to very good lightfastness depending on the hue, all paints are intermixable
Georgian oil paints provide high quality at a reasonable price They satisfy high demands in terms of usability, aging resistance and lightfastness (non fading). Carefully chosen pigments and precise recipes are able to produce 54 brilliant colour hues. The buttery consistency of these fine oil paints for artists enables not only the application with a brush but with a palette knife as well.
The four different white hues are differentiated in the following ways:
Titanium white is a lustrous, cold white with extraordinary coverage (opacity) for really stong bright accents. It can be used for blending and also works well as an all-purpose white.
Zinc white is the least opaque of the white hues and is especially good for blending of colour hues for glazing purposes.
Mixing white is a cooler white hue with low coverage that provides a great deal of control when blending pale colour tones. 
Underpainting white is a lustrous white hue with a high degree of durability and opacity that can be used for priming work, which can serve to prevent cracking and shrinking in the initial phases of a picture.
Set of 10 contents: Titanium White (009), Lemon Yellow (651), Cadmium Yellow Hue (627), Cadmium Red Hue (503), Crimson Alizarin (515), French Ultramarine (123), Sap Green (375), Yellow Ochre (663), Burnt Sienna (221), Lamp Black (035)
Daler-Rowney Georgian oil paint
24 Variants