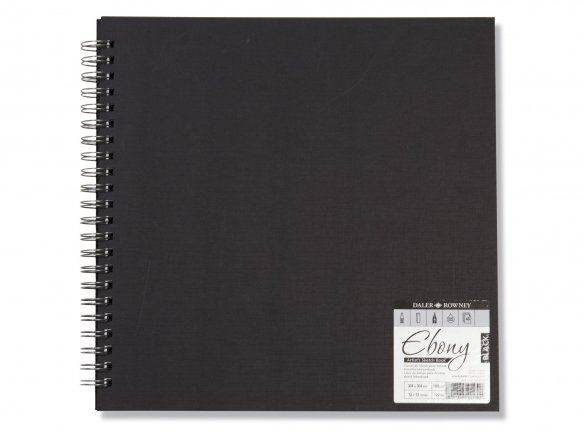 black drawing paper
black binding (hardcover)
matte, acid-free
for dry techniques
usable as a scrap book or photo album
Drawing board

black, 180 g/m²

Attributes

matte, acid-free

Content

40 sheets

Cover

uncoated black paperboard with linen texture, th = 1.5 mm, protrudes over contents

Binding

spiral binding, silver coloured
There are a million sketchbooks with black covers but such books filled with black drawing paper are pretty damn rare!
The Daler-Rowney Ebony spiral sketchbook, black pages has both: black hard cover and black, acid-free 180 g/m² drawing paper. These ring notebooks are actually designed for making sketches and pastell drawings in contrasting colours with coloured pencils, fountain pens or chalk but they are also great for other uses as well: for scrapbooking, as a photograph album, guest book, diary and much more.
Because of the large spiral rings, these sketchbooks will lie nicely flat on a table. The overlapping, sturdy cover protects the contents against damage.
Daler-Rowney Ebony spiral sketchbook, black pages, 180 g/m², 150 x 150 mm, black paper, 40 sht./80pgs
Accessories and Related Products