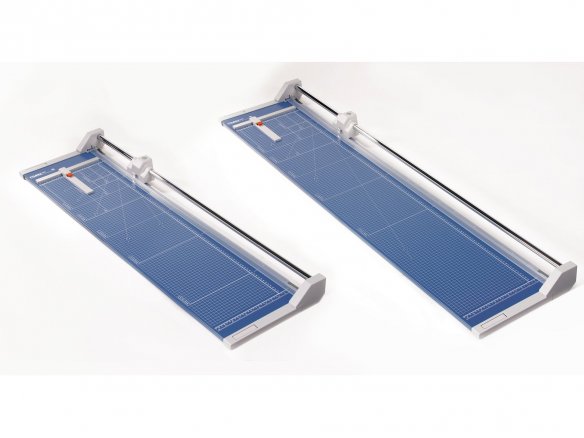 blue sheet steel worktop (w = 320 mm) with bevelled edges and imprinted mm graduation, ground circular and bottom blade, automatic paper clamp, aluminium guide piece is top-side (when used by a right-hander) with plastic adjustable backstop (fits on either side), can be wall mounted, maximum cutting height is 1.0 mm with the 556 and 0.7 mm with the 558
The 556 and 558 rotary trimmers are especially designed for use on large format jobs. For this reason their maximum cutting capacity is limited to 1.0 mm.
The worktop of the rotary paper cutting machine consists of painted sheet steel that is mounted on both sides in a plastic retaining fixture. On this retaining fixture a chromed round steel bar or, alternatively, a steel tube is affixed, both of these fixtures serve as the guide for sliding the round blade which, for safety purposes, is covered with a plastic cap. During the cutting action the rotating rolling blade sharpens itself on the lower blade and presses the transparent clamping bar (when the automatic contact pressure feature is included) downwards.
The rotary cutting machine is primarily used to cut small numbers of paper sheets, film or paperboard. They are not intended for use in cutting cardboard. The guide edge of the machine does not go all the way under the clamping bar with the result that pieces that are smaller than around 60 mm can no longer be fed at a right angle.