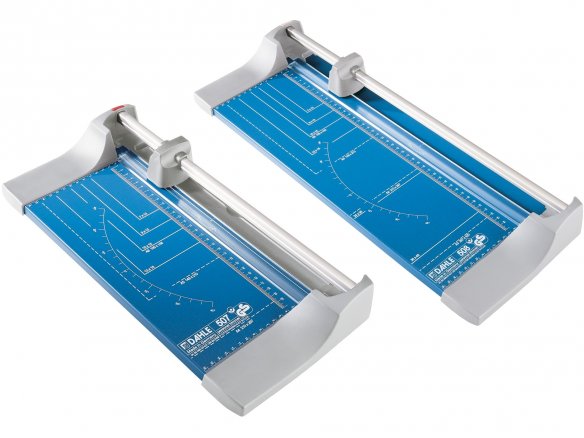 encased rotary round blade
plastic casing encloses blade and protects against injury
automatic clamp at the cutting point
two-angle layout with metric rulers
imprinted with standard DIN and photo formats, plus protractor
easy-to-change trimmer head
Worktop (w = 155 mm) is made of sheet steel with returned edges and metric sizing grid, ground steel round blade, bottom blade not ground, hand pressed, plastic backstop on both sides, maximum cutting height is 0.8 mm for the 507 and 0.6 for the 508
The rotary paper cutting machines 507 and 508 are not designed for professional use; they should be used for cutting paper and paperboard in the private sector.
Dahle rotary paper trimmer 507/508
2 Variants
Note
The 507 model is only temporarily available in black or white. Replacement cutting heads are only available in the standard grey colour.
Accessories and Related Products