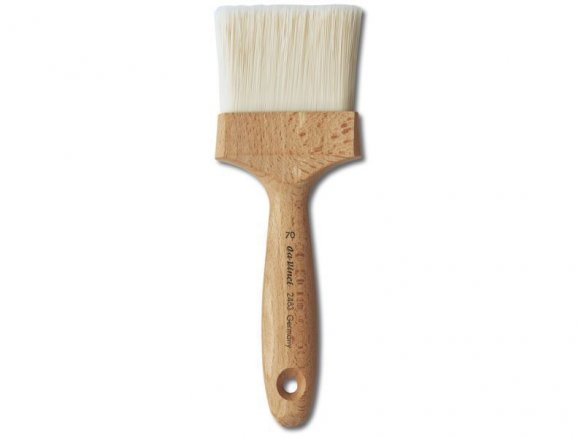 white nylon bristles, attached to raw wooden handle, no metal holder, exposed hair length 55 mm, total length 215 mm, w = width of setting of the handle connector
For painting techniques in which acids or other aggressive liquids are involved it is a good idea to use a brush that does not have any metal parts. In the case of this Da Vinci brush for corrosive action, the nylon bristles are worked directly into the wooden handle so that when doing staining or etching work no metal parts can be damaged because they aren´t even there! In contrast to etching brushes with goat´s hair, the nylon bristles of this brush are somewhat stronger and are thus better for working liquids into a substrate.
The price for this brush is higher than that charged for more cheaply produced brushes but is more than worth the extra money considering the quality of the basic materials and the longevity and durability of the brush. He who buys cheap, buys twice!
Da Vinci brush for corrosive action, flat, nylon bristles, series 2483, size 70, w = app. 70.0 mm