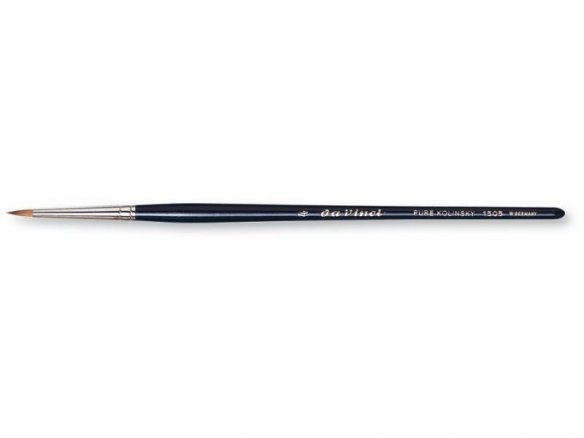 extra short selected Kolinsky red sable hair, seamless silver ferrule (= drawn brass tube, nickel-plated); short, polished black wooden handle, sizes 5/0-5, exposed hair length 3-11 mm, total length 175-190 mm, protective cap, w = diameter of ferrule
The Da Vinci retouching brush with the extra-short Kolinsky sable hair is especially great for use in doing precise spotting or stippling work when retouching a painting but it is also just as useful for miniature painting work, for model making and restoration work.
Kolinsky is made from the tail hair of the Siberian red marten "mustela sibirica" (a large Siberian weasel) that mainly lives in eastern Siberian river landscapes. Kolinsky hairs have a natural tendency to stay in close proximity to one another and will retain this closed shape even when wet. Siberian red sable hairs are the the most valuable and efficient artist brush hairs that there are in the world. 
Da Vinci Kolinsky retouching brush ,X-tra short,round
8 Variants