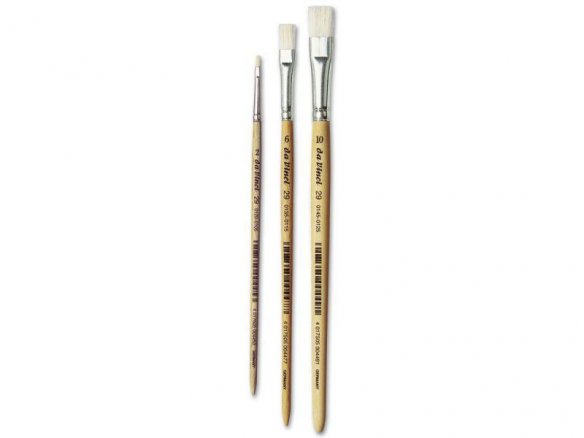 white China bristles (Chungking), seamless aluminium ferrule, natural wood handle, sizes 2 to 24, exposed bristle length 9-25 mm, total length 163-219 mm, w = width of the ferrule
This universal paint brush made with Chinese boar bristles is great for all kinds of work on plain and rough painting substrates and is particularly effective when painting with opaque oil and acrylic paints. It can just as easily be used in school and painting classes as it can for model making or painting on ceramics and textiles.
The best and most well-known hog bristles come from China and Russia. They are distinguished by their robust structure, excellent elasticity and high degree of resilience. Bristles have a rougher texture than natural hair and the tips of the individual strands end in a so-called "flag", which means it divides there into many thin ends. This "flag" contributes significantly to the ability of a brush to yield a more even application without leaving grooves.
Da Vinci bristle brush, short handle, flat
13 Variants