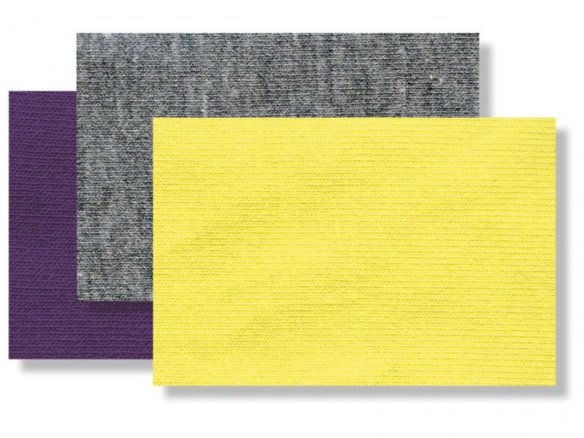 92% cotton, 8% elastane, 240 g/m², solid colour, single-jersey, bi-elastic, cut edges barely frayed, machine washable up to 30 °C, effective width ca. 1550 mm, doubled over
Jersey is a fine mesh knit fabric and cotton jersey is THE classic T-shirt material: elastic, easy-care, shape-holding and pleasant to wear. This single-jersey on offer has a small portion of elastane and is four-way elastic as a result. Single jersey has two different sides: one side only shows the right mesh (plain stitch - that is normally the upper side), the other side only the left (purl stitch). This cotton fabric does tend to curl along the lengthwise edges.
A jersey needle is the best implement for sewing jersey (logic at its best!) - its blunt point will not harm the mesh structure of the fabric. In order to prevent the tearing of a seam upon stretching, we recommend that you use a zigzag or triple stitch or, alternatively, to work on an overlock machine. The cut edges fray only a negligible amount, which makes it possible to work with jersey without selvedge.
Care tip:
Washing should be done with organic detergent that has no brighteners or bleaching agents.
It can be washed by hand or machine at up to 30 °C, wash dark colours separately, do not machine dry, iron with a lukewarm setting (110 °C) in the direction lengthwise to the stitching.
Cotton jersey, monochrome (5438)
15 Variants
Note
Minimum order: 0.5 running meter