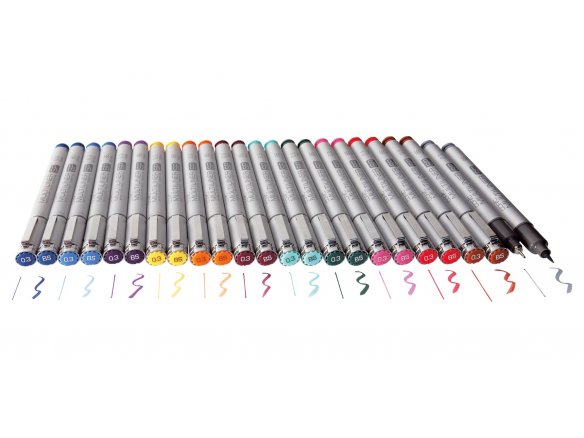 pigment and water based ink, quick-drying, lightfast, waterproof, does not bleed when drawn over with Copic markers, exchangeable refill with colour-coded end piece; exchangeable plastic nib encased in metal sleeve (except the brush nib), silver anodized aluminium barrel with line width indicator, cap has colour-coded end piece and line width indicator, comes with metal pen clip
The COPIC MULTILINER SP was originally designed using the COPIC MULTILINER as the basis. The main differences were a lightfast ink, the exchangeable nibs and the possibility of replacing the ink cartridge.
Now a further development has come to pass – the Copic Multiliner SP Color! This pen is, as the name implies, a colour version of the original high-quality Multiliner SP. As with its black forerunner, the nibs are exchangeable and the pigment based ink is "copicfast", waterproof, lightfast and replaceable.
The Multiliner SP Color comes with a 0.3 mm wide fine liner nib or a brush nib (0.2 – 0.5 mm). They are, then, super for sketching or writing and are a welcome addition to the technical drawing toolbox.
Copic Multiliner SP Color
10 Variants