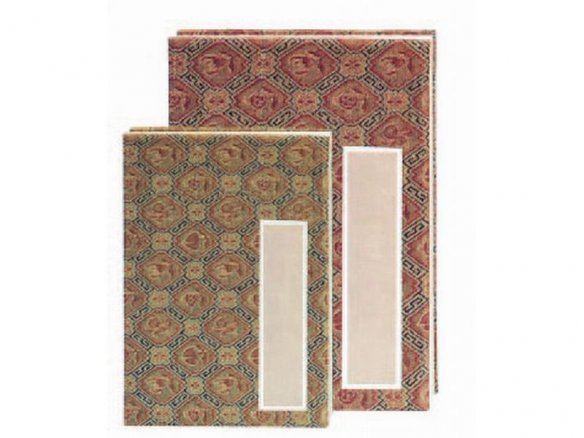 cream white paper, rough, doubled over and glued at the (zig-zag) folds, cardboard cover pasted over with patterned Chinese brokade, with verticle labelling field, 2 x 20 sheets (joined at the folds)
The relatively rudimentary Panorama sketchbooks offer the possibility of positioning many sketches of the same object next to one another or of creating wide sketches that run over many sides contiguously (for example, landscape panoramas). The rough, relatively fibrous paper is suitable for all dry drawing techniques as well as watercolour studies. In addition, these books are often used as photo albums and guest books.
The inner part of the book consists of somewhat narrow paper strips that are doubled over and glued one sheet over the other folded sheet such that the folds are staggered left and right. This creates a zigzag effect which allows the sheets to be pulled like an harmonica. The paper does thereby gain in stability where the two sheets are glued together but it is broken up at every second fold by the border of the overlying sheet.
Chinese Panorama sketchbook
2 Variants