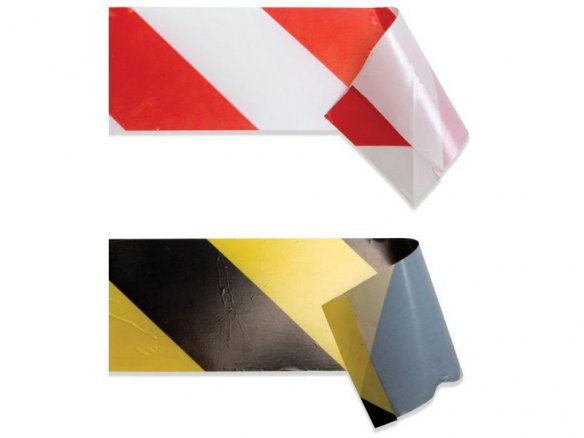 PVC carrier material, strong and permanent adhesive strength, left-hand direction (linksweisend)
This caution tape is a self-adhesive tape for marking protrusions, corners, edges and other spots that could be considered dangerous. The yellow/black striped tape should be used for immobile dangers, the red/white one for flexible objects.
It has good adhesive strength and can also be stuck to smooth surfaces; it is, however, made with a thinner plastic carrier material than other types of marking tapes which are somewhat thicker and sturdier but also correspondingly more expensive.
In the case of caution and marking and barrier tapes, the designations "left pointing" (linksweisend) and "right pointing" (rechtsweisend) are used. Left-pointing means that the stripes run from bottom left to upper right. If you glue a left-pointing tape vertically instead of horizontally you will have created a right-pointing marker!
Caution tape, striped, self-adhesive
2 Variants