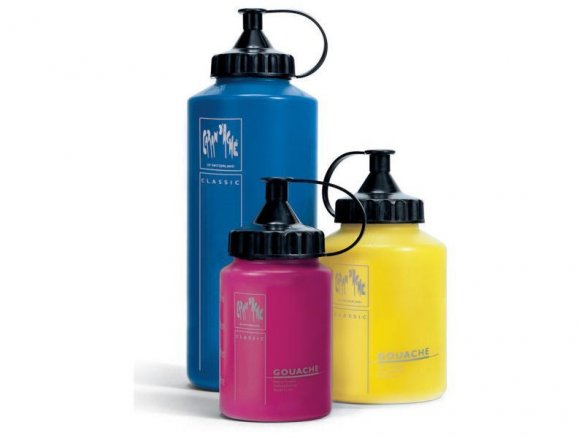 pigments in natural binding agent, high coverage (opaque), can be used pure or thinned with water, velvety matte and opaque when dry, can be removed even after drying, good lightfastness, conforms to European toy safety standard EN 71-3
The liquid Caran d'Ache Studio gouache paint is a watercolour made with natural binding agents. It has a matte finish when dry and provides good coverage that resists cracking. Its high concentration of pigment assures that all colours will be luminous when applied to many possible surfaces including paper, cardboard, textiles and wood. A separately sold pump dispenser that can be placed on the opening of the plastic bottles is a practical aid for controlling the amounts of paint being used. Gouache Studio liquid is designed for hobby use and painting lessons. 
The set of 5 consists of one each of primary yellow, primary magenta, primary cyan as well as black and white. These colours are an excellent group for teaching the art of colour mixing. 
Caran d'Ache Studio Liquid Gouache
8 Variants