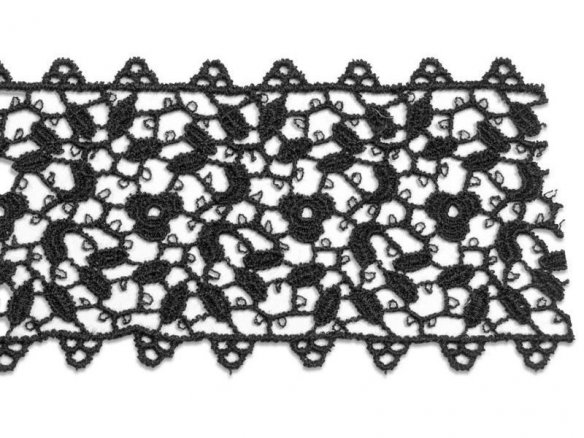 100% cotton (white version), 60% cotton/ 40% polyester (black version), knit, slightly elastic, machine washable to 40 °C, iron at medium temperature
Burnout lace is produced by overstitching (embroidering) a cloth (back)ground and subsequently removing all the untouched background material by chemical means. What results is an openwork material that looks like very elaborately processed bobbin lace. In earlier times the cloth foundation material was etched away in a chlorine bath (hence the German name "Ätzspitze" = etched lace). Nowadays the foundation material is a water-soluble one that is not temperature resistant and can be removed by an environmentally friendly process.
Burnout lace is very plastic and can serve to refine and improve not only clothing textiles but also tablecloths, sheets, curtains, draperies and much, much more!
Burnout lace, braided leaves
2 Variants
Note
Please note that products cut from rolls cannot be exchanged.