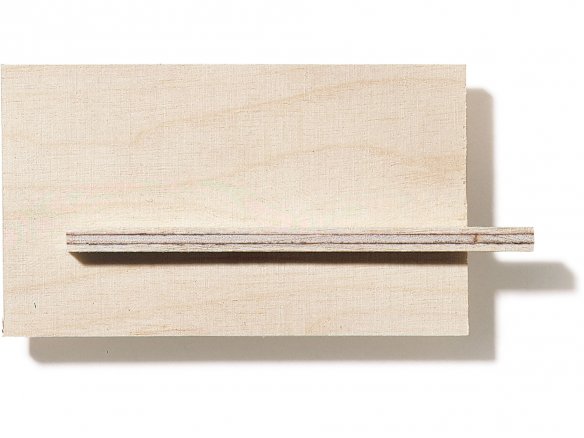 smooth/smooth, BFU 100 (waterproof adhesive bond), quality BB/BB, thickness tolerance ± 0,5 mm, fibre direction parallel to the first named measurement (large panel)
Custom cutting available. Choose your desired size!
For more information about our custom cutting service, please visit Modulor Services.
The plywood, which is made from birch veneers,  is glued with a waterproof adhesive bond (BFU 100 according to CE-Norm EN 636) and is suitable for use in rooms with high humidity. We offer a very basic quality of plywood that can have small imperfections like, for instance, repaired knotholes. Thin panels are not completely without warpage. Because of its sturdiness, however, and the nice looking layering when section cut, plywood is still perfectly suitable for furniture making.
We will cut this plywood to your specifications. When ordering, please refer to the CUSTOM CUTTING SERVICE information.
Birch plywood custom cutting
6 Variants
standard sizes
custom cutting
4,00 mm
6,50 mm
9,00 mm
15,00 mm
18,00 mm
30,00 mm
Note
Absolute flatness cannot be guaranteed especially in the case of thin panels of birch plywood. An unavoidable result of the production process it that the widths of these panels can indeed vary from board to board.