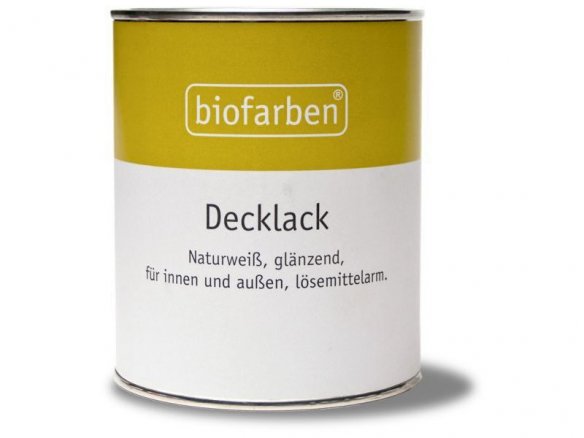 for interior and exterior use, made of plant oils and resins, low solvent content, highly opaque, elastic, water repellent, water vapour permeable, colourfast when exposed to saliva or perspiration as per DIN 53160; Coverage: 70-100 ml/m² per coat, dust dry after 8-10 hours, dry and reworkable after 16-24 hours, working temperature: at least + 15 °C, shelf life when unopened is at least 5 years
The Biofarben top coat paint is a water repellent, elastic paint with a high degree of hardness and coverage. It is particularly good for making vapour permeable top coats both indoors and outdoors on wood, metal (heater radiators and neutral stonework). This lacquer is not suitable for horizontal surfaces in weather-exposed outdoor areas, for areas impacted by water or for flooring. 
Directions for use: This ready-to-use top coat can be brushed on, rolled on and sprayed. Ii should be sparingly applied in order to avoid any drying problems. Absorbent surfaces must first be primed. Indoors 1 to 2 coats will suffice while outdoors you should apply 2 to 3 coats of the Biofarben top coat. All tools should be immediately cleaned after use with, for example, BIOFARBEN THINNER.
The products from the company Biofarben adhere strictly to the principles of ecology, building biology and healthy living. All the contents are clearly displayed (check out the technical data sheets) and have been tested for their effects on people and the environment - this being an invaluable asset for allergy sufferers and an important contribution to transparency for consumers. All products are used on a daily basis in Biofarben´s own artisanal workshop - their workability is thereby constantly being monitored.  
Biofarben top coat, natural white, glossy
2 Variants