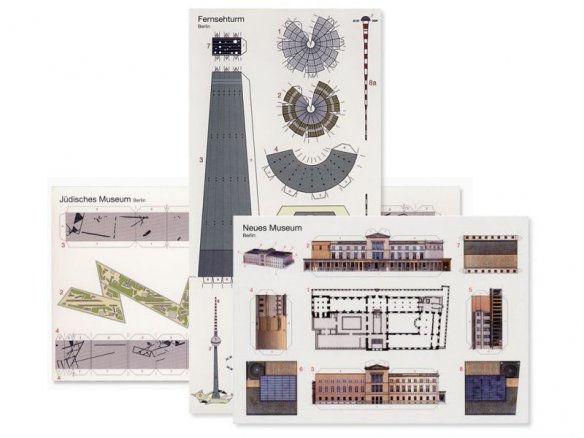 paper model kit for cutting out
These charming postcards depicting well-known buildings and points of interest – mainly in Berlin – are, in fact, sheets of cut-outs that can be assembled into three-dimensional mini architectural constructs by anyone who happens to like cutting and gluing work. You do not have to send them as postcards at all if you like handicrafts. This is how the assembly is done:
First score the dotted lines one after the other. Then cut out all the pieces along the outer lines. You should begin at the top border and cut out all the lines running from the top border to the bottom border. Then do the same from left to right and finally all the diagonal lines as well. Important: only cut out the outlines completely. The lines that are to be folded for glue application should only be scored. Then carefully bend back all the areas defined by simple dotted lines ------ or fold them forwards if the lines look like this: --x--x--.
Once all the pieces are cut out you must use the cutter to lift and remove the upper film in the area of the gluing surface (the one that has the small numbers printed on the glossy surface). The film is removed because the matte cardboard is much better for gluing. You now glue all the pieces to one another using the numbers and the sketch as a guide and – voila! – the model is finished.
Berliner Luft postcards
26 Variants