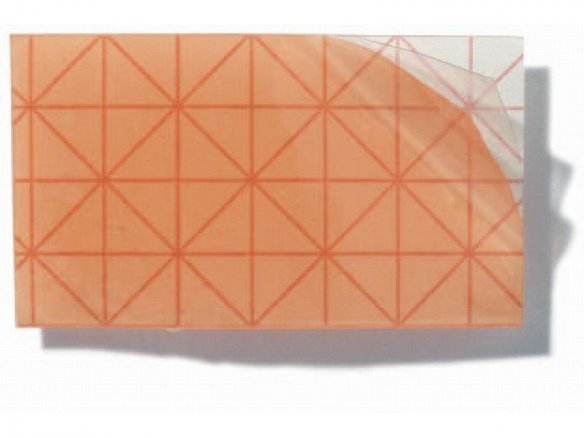 transparent, colourless, acid-free, calendered monomeric plasticised PVC, th = 0.08 mm, solvent-free, ph neutral acrylate adhesive, one side with permanent adhesive, one side removable, both sides lined with silicone paper and orange LDPE film, inner ø of the roll tube is 50 mm (for 50 m roll it is 76 mm)
The two sides of the double-sided adhesive film DK4 from the Aslan company have differing adhesive strengths. The side with the silicone release liner has an adhesive with delayed initial stickiness and therefore makes adjustments possible when applying it. The side with the orange coloured release liner has a special adhesive which, even after an extended period of time, allows the film to be easily removed from all smooth surfaces.
In addition to its customary uses (removable applications or creating self-adhesive placards, maps, blueprints, drawings, advertisements, etc.) this film, because of the removable adhesive on its one side, is also good for use in affixing materials to milling tables.
The initial stickiness of the side with the paper release liner is about 2.5 N, but after a week it rises to about 4 N. The initial stickiness of the side with the film release liner is about 1.5 N, but likewise rises after a week to about 4 N. Despite the fact that after a week the adhesive strengths are the same, the side with the film release liner is still easier to remove.
When working with this product, the temperature should be at least 15 °C. Once the adhesive has set, this film is temperature resistant from -30 °C to +80 °C.
Application: Posters, layouts, photographs, blueprints or maps can be firmly attached to suitable surfaces with adhesive film, adhesive with non-woven paper centres or transfer film. All types of panels with smooth surfaces like CARDBOARD, KAPA BOARDS or PLASTIC SHEETS can serve as the substrate material. Please note: Alternatives to double-sided adhesive films or double-sided adhesive non-woven paper include SPRAY ADHESIVE, TRANSFER ADHESIVE, XYRON adhesive and laminating machines, standard ADHESIVE NON-WOVEN ADHESIVE or GUDY 870, and, finally, self-adhesive panels like, for example, KAPA FIX.
Processing: Working with the double-sided adhesive film by hand is done as follows: the film is mounted by applying it from one corner to the other and made secure and smooth with the help of a sqeegee-type applicator during which time the the release liner paper is simultaneously and gradually removed as required for exposing the adhesive. Before the PE film liner is removed at a sharp angle, any bubbles should be punctured with a NEEDLE and smoothed out.
The same procedure applies to all the Gudy products. Because, however, only one of their sides has a protective liner, more care must be taken when working on larger areas in order to prevent the adhesive side from sticking to places where it shouldn't.
Applying your object to the prepared substrate requires a certain amount of dexterity because double-sided adhesive films are very clingy (like plastic wrap). Once the paper has been placed on the film, it must sit perfectly. Large folds or creases cannot be remedied or removed because the paper can no longer be separated from the film. Here too, you can work radially from the middle of a side outwards and do the necessary pressing with a soft brush or cloth.