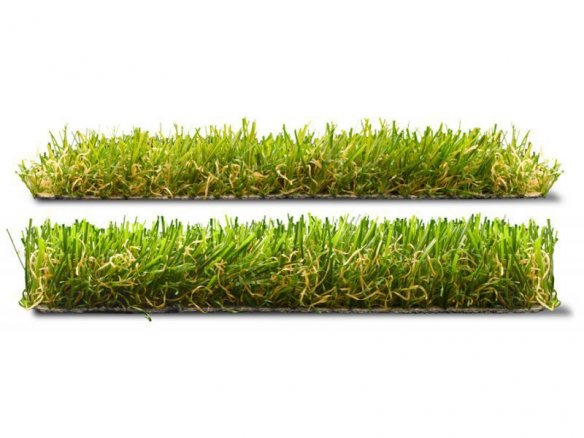 green colour, straight grass fibers made of PE monofilament, wavy grass fibres made of PE monofilament, the carrier mat is latex coated on the back, UV stabilized
This artificial turf (maybe the term "synthetic piece of grassland" would be more accurate!) consists of three different (synthetic) blades of grass: the first two are somewhat longer and comparatively finer grass blades in two different tones of green and the third consists of very curly, sand coloured blades that give the grass the appearance of being real. A group of shorter blades provides the other longer blades, which are almost 30 millimeters in length, a high degree of stability. This whole system creates a grass that feels soft under your foot while also being pleasantly firm. When compared to the synthetic grasses with only 12 or 17 mm blades (piles), this longer version is not only the deepest but also the most compact and is certainly the one that looks the most like real grass.
Its UV resistance makes it suitable for both indoor and outdoor use, for decorating purposes and even for use in fitting out landscapes, gardens and playgrounds.
Synthetic turfs are divided into two categories: filled and unfilled. The unfilled system (the classic synthetic turf) is the one seen in artificial turf carpets that are very densely tufted. Filled types on the other hand are made out of longer yarns and are filled with sand after being laid. The sand is distributed around all the "blades". Because we only offer artificial turf for decorating, furnishing and tradeshow constructing purposes, we do not carry the sand/granulate fillers in our product assortment.
Tufting: this is the technique whereby a cluster of threads are inserted through the surface of a textile (in this case the fabric carrier). On the front side, loops are formed that can be or are subsequently cut, whereby the grass bunches (tufts) are produced. In order to affix the tufts, the back side of the carrier is coated – in this case with latex. The coating prevents the threads or filaments from being simply pulled through the carrier.
Processing: The artificial turf is usually delivered in a rolled up condition and requires about 30 minutes (depending on the outside temperature) before it is ready to be laid. The substrate should be even, stabile and, especially outdoors, water permeable. Sand, fine gravel, cobblestone, tile, cement and asphalt are as a rule very suitable. Cutting the carpet can be done with a CUTTER or UTILITY KNIFE.
As is the case with most synthetic turf on offer, this version does not conform to the B1 (inflammability) norm. In order to make it non-inflammable for use in trade show constructions, it can be treated with a special protective agent – we unfortunately do not normally carry that product in our product assortment but can provide it upon request.
Artificial turf, long-pile pile length 30 mm, 2708 g/m², w = 2000 mm
Note
Minimum order amount of products from rolls is 0.5 running metres. Please note that orders cut from rolls cannot be returned or exchanged.

Because of the heavy weight, the cost of shipping and handling for complete rolls may be higher.