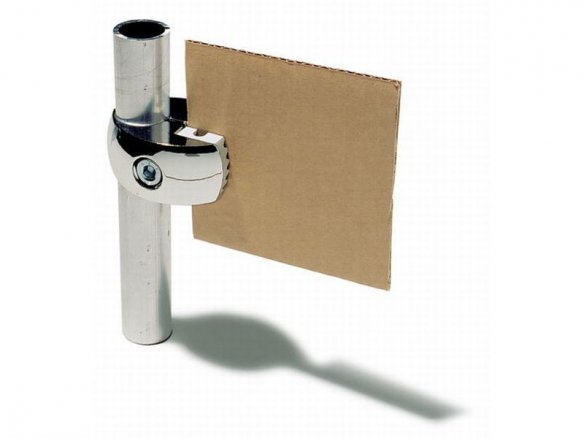 aluminium diecasting, chrome coloured, glossy, for various panel thicknesses (with and without plastic insert), includes allen head screws (6 mm; 5 mm for the joint-like holder)
Panel holder clamps make possible a "panelling" of connector joint constructions and thus the creation of separate spaces. The use of the various panel holders enables the connector joint system to serve as the basis for simple trade show and exhibition constructions with enormous flexibility. The four-piece pivot-like panel holder clamp makes it easy to build Z-shaped standing walls, while the two-piece version is mostly used to make linear shelf and wall constructions.
Without the plastic inserts, the clamps can hold panels with thicknesses from 16 to 22 mm; with a single insert they can hold panels with thicknesses from 7 to 15 mm; with two inserts, panels with thicknesses from 0.1 to 8 mm. These measurements are approximate values: the maximum thickness which can be clamped depends on the weight and the construction of the sheet in question. Smaller or in-between thicknesses can be held by adding appropriate shims made from plastic, rubber or cardboard. In addition, the plastic inserts have a vertical slot in the middle of them with a diameter of 8 mm for holding rods and tubes in place.
The fittings and the panel holder clamp are also suitable for use with pipes and solid rods made out of plastic, wood, metal or cardboard when they have an outer diameter of 25 mm and as long as the chosen material meets the construction requirements of the intended implementation.
Aluminium panel holder clamp for ø 25 mm tubes
3 Variants
Note
Our tube and pipe fittings are of a basic quality - i.e. there is always the possibility of surface scratches or other irregularities.