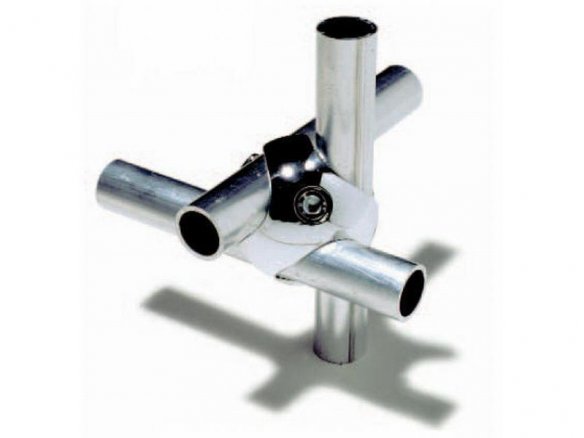 aluminium diecasting, chrome coloured, glossy, for intersecting connections, includes Allen head screws (6 mm)
The connector joints for 3 or 2 pipes consist of two mussel-like aluminium shells which are connected by an Allen screw and the matching nut. When first putting them together, their brilliantly simple construction can be a bit of a challenge because at first sight it is not obvious just how they go together. When "right" or "left" is indicated, it refers to the position of one pipe in relation to the other. You should also be sure to note any and all adjoining markings!
The fittings and the panel holder clamp are also suitable for use with pipes and solid rods made out of plastic, wood, metal or cardboard when, of course, they have an outer diameter of 25 mm and as long as the chosen material meets the construction requirements of the intended implementation.
Aluminium connector joints for ø 25 mm tubes
2 Variants
Note
These tube and pipe fittings are of a basic quality - i.e. there is always the possibility of surface scratches or other irregularities.