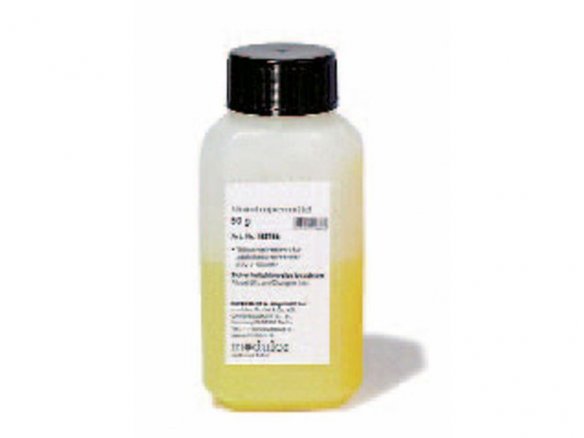 thixotropic agent for addition-crosslinked RTV-2 silicone (yellowish liquid), dosage is 0.2% of the whole amount, density at 23 °C is 1.03 g/cm³, viscosity is approx. 1.500 mPa, shelf life with proper storage is at least 12 months
Thixotropic agent is used to thicken silicone so that, in cases where the area to mould is vertical or over one's head, it will not run off or drip. In the process, the agent should be added and well mixed either into one of the two components or into the final stirred mixture. While being careful to conform to the dose given (0.2% for Alpa Tix A or 2% for Alpa Tix C - all the percentages being based on the total weight of the mixture).
After adding the agent a few minutes will go by before the reaction begins and the rubber thickens. In order to optimize the exactness of the mould, you can use this time to apply with a BRUSH the still somewhat low viscosity silicone mixture onto the master pattern as a first step. After that, the finally thickened material should be applied with a wide brush or a SPATULA while that first coat is still sticky. You can continue to apply coats until the desired thickness is achieved as long as the previously applied coat is still sticky.
Because silicone that has been treated with a thixotropic agent is usually used to make thin skin or shell moulds, thixotropic agents should always be used in combination with silicones that are soft, elastic and tearproof so as to be sure that the de-moulding goes smoothly.
Alpa Tix A or Alpa Tix C should only be used with the silicone whose crosslinking type is given in the product information. Alpa Tix A, for example, only functions with addition-crosslinked and not condensation-crosslinked silicone.
Alpa Tix A
Note
This article is identical to Modathix A, only the name has changed.