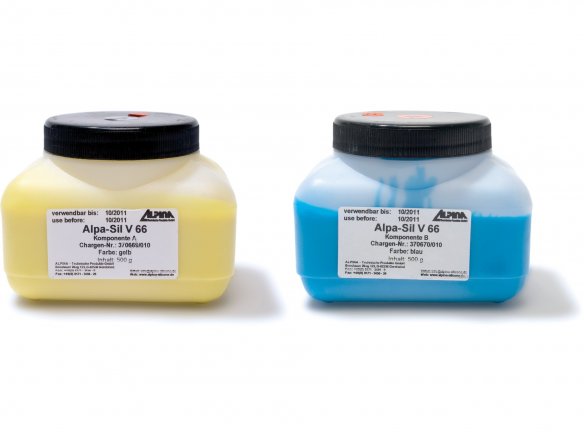 addition-crosslinked precison casting silicone, medium hard (25 Sh-A), highly elastic, good mechanical stability, very high viscosity (can be brushed and troweled), cures to an opaque green colour, mixing ratio of component A to B is 1:1, working life is approx. 5 minutes, de-moulding time is approx. 15 - 20 minutes, shelf life with proper storage is at least 12 months (both A and B components)
Alpa Sil V 66 is a medium hard, pasty silicone with good mechanical attributes for making moulds of models which cannot be made with liquid silicone. This is the case, for example, with mounted pieces or vertical surfaces. By virtue of its high viscosity, it is in fact suitable for work which must be carried out for making a mould over your head. This attribute makes it ideally suited for use in stucco plasterer's work and restorations as well as for work in the creative arts. Besides that this silicone has been tested and approved for contact with human skin
Alpa Sil V 66 is distinguished by the ease with which the components can be manually mixed (1:1) and how easy it is to work with while at the same time attaining a very high degree of stability under load. It takes well to being painted or having its surface smoothed out – as long as it has not yet completely cured, more layers can be added until the desired thickness is attained. In the process, it is completely possible to apply a 1 cm thick layer without having it run off.
As an alternative to Alpa Sil V 66, such products as paintable polyurethane moulding materials or low viscosity silicone can be used if they are thickened with a THIXOTROPIC AGENT.
Alpa Sil V 66 1:1, component A (polymer) 500 g in PE container
Note
This article is identical to Modasil V 66 1:1, only the name has changed.

Please note that the product consists of two components (polymer and curing agent)!