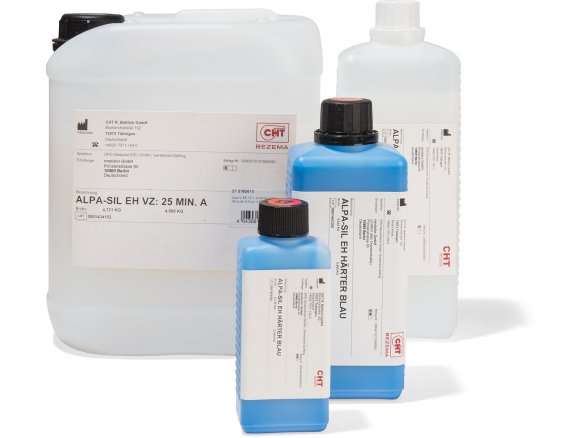 addition-crosslinked precison silicone rubber mould material, medium soft (26 - 28 Sh-A), highly elastic, good mechanical stability, low viscosity (pours well), cures to an opaque light blue colour, mixing ratio of component A to B is 10:1, working life is approx. 25 minutes, de-moulding time is approx. 2 hours, shelf life with proper storage is at least 12 months (both A and B components)
Alpa Sil EH, which is a standard silicone with good mechanical attributes, is great for making exact moulds of complicated master patterns with undercuts. The completed mixture de-aerates nicely even without a vacuum forming machine and pours very nicely as well. In the case of larger wall thicknesses the material is light blue and opaque; walls of only a few millimetres remain translucent after curing.
Alpa Sil EH 10:1
4 Variants
Note
The product consists of two components (polymer and curing agent), which must be mixed in a ratio of 10 (A) to 1 (B). Please note that at this time we do not have a container of the A component that, in terms of the mixing ratio, wouid correspond to the 500 gram B component container.

Please also note that we can only ship large quantities of this article per forwarding agency which means that there are higher shipping and handling costs.