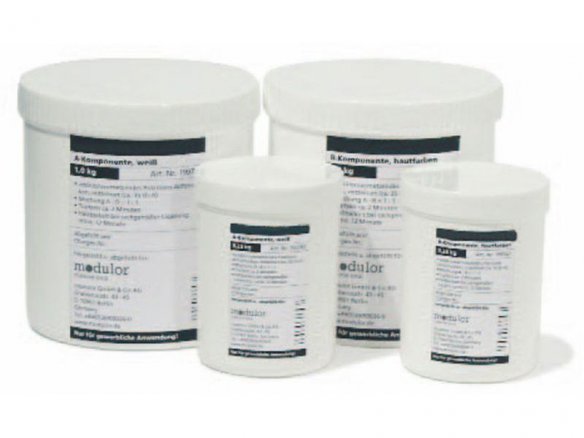 addition-crosslinked precison casting silicone, medium hard (approx. 35 Sh-A), elastic, relatively little mechanical stability, very high viscosity (pasty, kneadable), cures to an opaque skin colour, mixing ratio of component A to B is 1:1, working life is approx. 2 minutes, de-moulding time is approx. 5 minutes, shelf life with proper storage is at least 12 months (both A and B components), tested and approved for skin contact
Alpa Megaplast is an extremely fast silicone with a working time of only 2 minutes. This material is especially well suited for making precise moulds from small objects. Although its mechanical attributes are very good for a ductile silicone, it should nonetheless not be used for moulds of objects with large undercuts because ductile silicones categorically contain fillers and are therefore not especially tearproof – which makes it liable to being torn by the undercuts.
This skin coloured silicone has been tested and approved for contact with human skin - it was designed for use in medical laboratories for making bodycasts (e.g. in orthopaedics).
Alpa Megaplast 1:1
2 Variants
Note
This article is identical to Modasil ductile silicone 1:1, only the name has changed.

Please note that the product consists of two components (polymer and curing agent)!