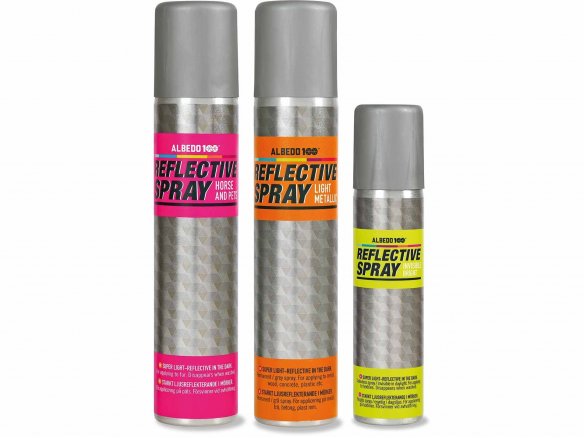 light-reflective effect
improves visibility of objects in low-light settings
added safety for people and animals
Surface

semi-gloss

Attributes

washes out, can be used on textiles
Description
Hazard warnings
Die Sprays von Albedo 100 mit ihrem lichtreflektierenden Effekt machen Objekte in der Dämmerung oder Dunkelheit besser sichtbar. Das auftreffende Licht wird von den reflektierenden Partikeln zu annährend 100% in dieselbe Richtung zurück geworfen, aus der das Objekt angestrahlt wurde.
Die reflektierenden Mikrosphären sind in dem Treibgas (Butan-Propan-Gemisch) mit einem transparenten Kleber vermengt. Der Klebstoff ist hautverträglich und kommt auch im medizinisch-klinischen Bereich zum Einsatz.
Anwendung Allgmein
Die Dose sollte eine Minute lang geschüttelt werden, damit sich die reflektierenden Teilchen gut mischen. Mit der aufrecht gehaltenen Dose wird aus ca. 30 cm Abstand in Sprühstößen zu 1-3 Sekunden auf den Gegenstand gesprüht. Nach getaner Arbeit sollte der Sprühkopf der Dose auf dem Kopf für 1-2 Sekunden leer gesprüht werden.
Bei direkter Lichteinstrahlung wirft die Beschichtung das Licht nur in die Richtung zurück, aus der es angestrahlt wird. Die Sichtbarkeit der Objekte von Autos ist dadurch gewährleistet, die Objekte geben dagegen von sich aus kein Licht ab.
Die reflektierende Schicht lässt sich einfach mit einer starken Taschenlampe oder dem Blitzlicht einer Kamera oder Handy testen.
Anwendung Invisible Bright
Das Reflective Spray Invisible Bright beschichtet Textilien mit einer auswaschbaren lichtreflektierenden Oberfläche.
Die Farbe und Oberfläche der Textilien wird dadurch nicht beeinträchtigt. Der leichte, hellgraue Farbton der Beschichtung wird auf Gegenständen farblos wahrgenommen, reflektiert das Licht aber im Dunkeln. Wird zu viel von dem Spray aufgetragen, lässt es sich einfach abrubbeln.
Die Haltbarkeit der Beschichtung beträgt je nach Abrieb bis zu einer Woche. Entfernt wird die Schicht ganz einfach mit der Waschmaschine und nicht vom Regen. Aus diesem Grund sollte davon abgesehen werden Leder mit Invisible Bright zu besprühen. Der beste Effekt wird auf natürlichen Materialien erzielt, wie Fleece, Baumwolle und Wolle. Synthetische und glänzende Materialien reflektieren von sich aus stärker und können die Wirkung beeinträchtigen.
Anwendung Horse and Pets
Das Reflective Spray Horse and Pets eignet sich zum Auftragen auf Fell und kann leicht mit Wasser, Seife oder Shampoo ausgewaschen werden. Das halb-transparente und Licht reflektierende Spray erhöht im dunkeln die Sichtbarkeit von Hunden, Pferden und anderen Tieren und erhöht damit die Sicherheit frühzeitig wahrgenommen zu werden.
Je nach Fellfarbe, -textur und Intensität des Auftragens kann das Spray als leicht grau wahrgenommen werden. Bei Tageslicht erscheint das Reflective Spray Horse and Pets jedoch als farblos/unsichtbar.
Die Haltbarkeit des Spray hängt von der Beschaffenheit des Fells, der Auftragsintensität und insbesondere vom Verschleiß- und Abreibungsgrad ab. Das Spray muss auf trockene Oberflächen aufgetragen werden und hält bis zu 1 Woche bzw. bis zum nächsten Waschen, wird aber von Regen nicht abgespült. Um die Wirksamkeit zu erhöhen empfehlen wir, das Spray großzügig aufzutragen und die Wirkung regelmäßig zu überprüfen.
Nicht bei Tieren anwenden, die empfindlich auf Shampoo oder ähnliche Produkte reagieren. Das Spray nicht auf offenen Wunden anwenden sprühen und nur im Freien oder in gut belüfteten Räumen verwenden. 
Danger, Butan = 50 - 60 %, Heptan [und Isomere] = 15 - 20 %, Dimethylether = 15 - 20 %, Propan = 1 - 5 % , xylen (o-, m-, p-isomer) = 1 - 2 %, butan-2-one O,O,O-(methylsilylidyne)trioxime = < 0,12 %, Flam. Aerosol 1, Skin Irrit. 2, STOT SE 3, Aquatic Chronic 2
Hazard warnings
EUH208: Contains (name of sensitising substance). May produce an allergic reaction. (EUH08 may be omitted if EUH204 or EUH205 has to be applied.)
H222: Extremely flammable aerosol.
H229: Pressurised container: May burst if heated.
H315: Causes skin irritation.
H336: May cause drowsiness or dizziness.
H411: Toxic to aquatic life with long lasting effects.
Safety instructions
P101: If medical advice is needed, have product container or label at hand.
P102: Keep out of reach of children.
P210: Keep away from heat, hot surfaces, sparks, open flames and other ignition sources. No smoking.
P211: Do not spray on an open flame or other ignition source.
P251: Do not pierce or burn, aven after use.
P410+P412: Protect from sunlight. Do not expose to temperatures exceeding 50°C / 122°F.
ALBEDO 100 Reflective Spray
3 Variants
Horse and Pets
Invisible Bright
Light Metallic