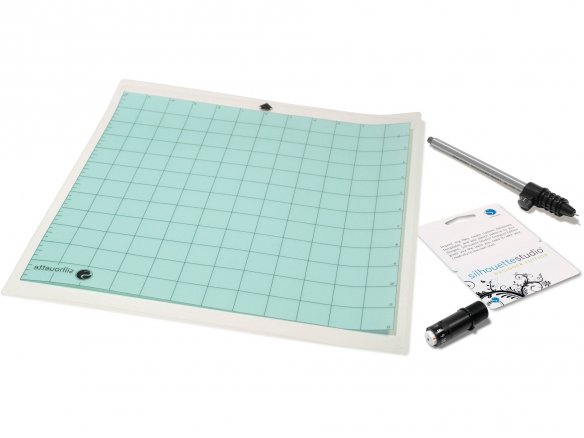 The replacement blade GT1901089 for the cutting plotter SILHOUETTE CAMEO consists of a blade and a holder. The holder has an adjustment scale from one to ten by which the cutting depth can be regulated (continuously adjustable). When set at ten, the depth is at the maximum of 0.5 millimetres; from nine to one the depth is reduced by 0.05 millimetres for each click. Because it is continuously adjustable, settings between these values can also be made. This replacement blade can be used with older Craft Robo models as well.
Materials without backing or smaller pieces of material that are too small to be taken up by the rollers should be placed on the slightly adhesive surface of a carrier sheet. These sheets have a sticky surface that will hold the attached workpiece in place. They are made of translucent PVC and are printed with registration marks and a grid. In place of the original carrier sheets, other films from our assortment like, for example, thin PC film, PET film or rigid PVC film can be used instead, as long as they have been provided with an adhesive coating beforehand (e.g. CREATIV MOUNT SPRAY ADHESIVE or ASLAN DOUBLE-SIDED ADHESIVE FILM DK4, REMOVABLE).
Pen holder with retaining screw: This plastic pen holder with retaining screw can hold pens with diameters up to 8 millimetres. The shape of the pen must conform to certain requirements (diameter of the barrel, taper of the tip) in order to fit into the holder – just use trial and error for a determination. The ballpoint pen SLIDER (generally recommended anyway!) and the felt-tip pen STABILO POINT 88 can both be used with great results. This holder can be used with all the Craft Robo models.
Replacement Cutting Strip: Along the cutting path of the blade there is a strip of material covering the entire width of the cutting area. Ideally, the blade should be positioned in such a way that it will not cut into the strip itself, especially considering that this material is not there to serve as a cutting mat but rather as a particularly frictionless substrate. The strip, however, is nonetheless a wear component that can/must be replaced after a large number of cuts have been made. The following describes how this is done: First you remove the old strip and then simply attach the new, self-adhesive strip directly on top of the residual adhesive coat. If some of the adhesive coat is lifted off with the old strip, it is best to then remove all of the coating (be careful when working with acetone!) in order to avoid creating any unevenness along the cutting path. Applying additional double-sided adhesive tape is not required.
The software upgrade "Silhouette Studio Designer Edition" augments the functionality of the cutting software Silhouette Studio that is included with your order:
It enables you to open and edit and cut with SVG files (storing vector graphics). All the available templates come in this format. 
It includes tools for converting designs into workable line drawings.
It makes available more tools for working on designs and includes expanded linear functions that enable greater flexibility when aligning and drawing.
The plug-in Cut Wizard makes it possible for this plotter to be directly driven by the (graphics) programs Corel Draw, Adobe Illustrator (Windows) and Inkscape (Windows). You can download the plug-in here for free for a 14 day trial period and, if satisfied, purchase it at: www.hobbyplotter.de
Accessories for SILHOUETTE CAMEO
7 Variants