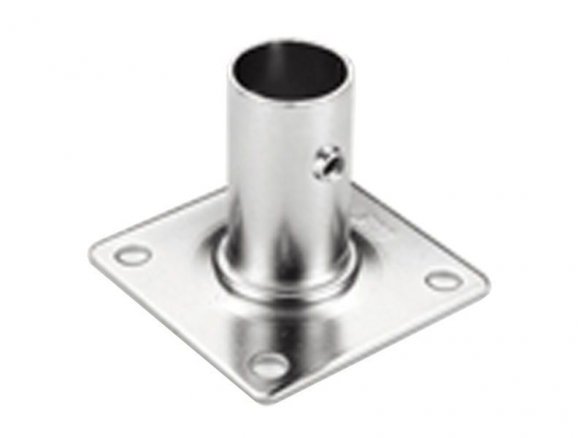 Product description

accessory for tube connector for tubes with outer diameter 28 mm

Material

reshaped steel, powder coated or nickel-plated
The panel support receptacle can be placed directly on a corner connector in order to serve as a mount for a correctly cut panel whereby the panel can be laid in the receptacle or on it – both of its sides can be used. In the middle of the diagonal section there is a hole provided where the panel can be attached to the receptacle with a screw. This receptacle is sold without the screw. If you want a mount that is flush with the surrounding tube when you lay the panel in the receptacle, the panel must have a thickness of 15 mm.
The tube brackets (sold without screws) can be laid on a tube and then be used as a panel support for a base plate or tabletop or as a panel holder for backplates or cover panels. The width of the brackets is 20 mm, the length is 39 or, alternatively, in the case of the double connector brackets, about 55 mm.
The inner tube connectors have a total length of 115 mm and a diameter of 24 mm, or alternatively 26 mm in the case of the connectors for stainless steel tubes.
The thread insert is made of steel and has the following dimensions: disc base: diameter = 28mm, height = 5 mm; the body diameter = 24 mm (25,6 mm for version "E" for stainless steel), height 30 mm. The diameter of the metric inner thread is 10 mm.
As a companion product we have the adjustable foot with a total length of 70 mm. The black hooded base (foot) is made of polyamide and has a diameter of 45 mm.
The floor mount for the tubes is sold without a grub screw (requires a M6 screw).
The connector screws are 25 mm long, have 6.0 mm metric threads and a spanner opening (hexagon socket in the head) of 5 mm.
Accessories for RKS ø 28 mm tube clamp system
8 Variants
Note
The accessories that are marked with an "E" will only fit stainless steel tubes (these tubes have a wall thickness of 1.2 mm); those marked "B" must be used with the ABS coated steel tubes. All the rest of the accessories can be used in combination with both tube types.
Accessories and Related Products