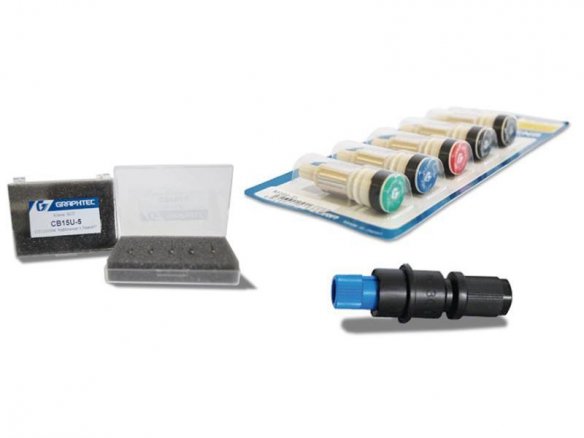 Carrier sheet: Materials without backing or smaller pieces of material that are too small to be taken up by the rollers should be placed on the slightly adhesive surface of a carrier sheet. These translucent PVC films are printed with both a grid and the registration marks necessary for the automatic sensor. These consumable articles can be replaced by less expensive alternatives that you can make yourself using products from the Modulor assortment. Please consult the relevant information found in the description text at Graphtec CE6000-40 cutting plotter.
Pen holder: This pen holder can accommodate pens with diameters up to 9 millimetres. The shape of the pen has to satisfy certain specifications (diameter of the barrel, the taper of the point) for it to fit in the holder –just use trial-and-error for a determination. One pen that you can be sure will fit and produce great results is our STAEDTLER LUMOCOLOR.
Blade holder and blades: The blade holder that is included with the machine accepts 0.9 mm thick blades with a cutting angle of 45° or 60°. In addition, an alternative blade holder for 1.5 mm thick blades is available for cutting tougher materials. Blades with cutting angles of 45° or 60° are available for this special blade holder.
Replacement Teflon cutting strip: Along the cutting path of the blade there is a Teflon strip covering the entire width of the cutting area. Ideally, the blade is positioned in such a way that it will not cut into the Teflon itself, especially considering that this material is not there to serve as a cutting mat but rather as a particularly frictionless substrate. The strip, however, is nonetheless a wear component that can/must be replaced after a large number of cuts have been made. The following describes how this is done: First you remove the old strip and then simply attach the new, self-adhesive one directly on top of the residual adhesive coat. If some of the adhesive coat is lifted off with the old strip it is best to then remove all of the coat (be careful when working with acetone!) in order to avoid creating any unevenness along the cutting path. Applying additional double-sided adhesive tape is not required.
Accessories for Graphtec CE6000-40
9 Variants