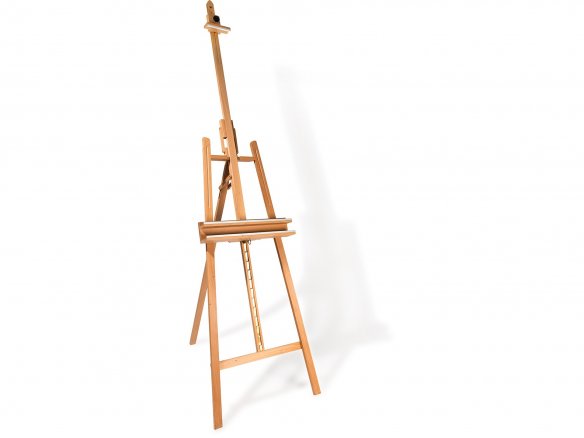 oiled beechwood, three-legged, upper picture holder and incline are continuously adjustable, painting area can be inclined separately, picture support bar adjustable by means of a metal ratchet with 14 steps, collapsible (becomes flat), coverable trays, total height with support bar at lowest point is 1770 mm, given dimensions are d x w = depth and width of floor space required for the tripod; h = maximum picture height
The inclination of this oiled beechwood studio easel can be adjusted in two ways: on the one hand the rear tripod leg is adjusted, on the other, the clamped painting substrate can be brought into different vertical positions independently of the tripod legs so that the picture can be observed in a way that does not distort the perspective - which makes the whole painting process that much easier to control.
The picture support bar can be step-wise adjusted by means of a metal ratchet and forms a sturdy holder for heavier picture sizes. Adjusting it is very easily done with a minimun of effort by pulling the metal ring found under the support bar. The minimum distance of the picture frame from the floor is 410 mm while the maximum distance is 1050 mm. A tray under the picture support bar provides space for painting utensils. The maximum picture height that can be accomodated is 1200 mm. 
A-frame studio easel, metal ratchet, inclinable d = 700 mm, w = 660 mm, max. h = 1270 mm, 7 kg