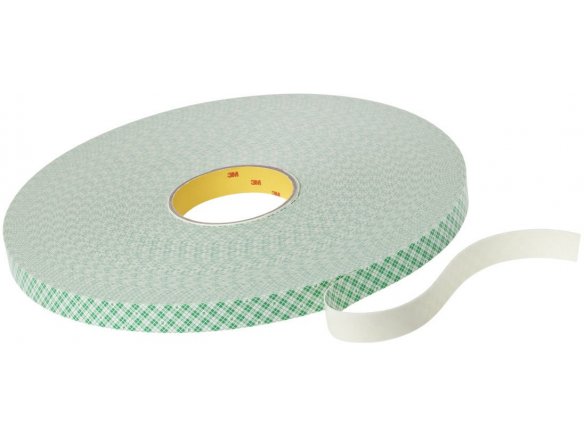 double-sided adhesive, white, open-celled PU foam carrier material, temperature resistant to 110 °C (short term to 190 °C), UV resistant and solvent resistant, acrylate A 20, th = 0.8 mm
Applications: This foamed mirror tape is an installation tape that is temperature resistant, UV resistant and solvent resistant. It is mostly used for trade show, store and interior constructions. It is especially good for affixing mirrors but can also be used to adhere sheet metal to furniture or doors. It sticks to metal, glass, ceramic, wood, stone and unplasticized plastic. The foam evens out any uneven areas of the surface to be glued (maximum 0.5 x adhesive tape thickness). Bonds made with mirror tape are aging resistant and can be put under load as soon as one day after application.
Treatment: As always, the surface to be adhered must be dry, clean and solid. Using this tape with wallpaper is not advised. In the case where the object to be affixed has an uneven surface, the tape should be first attached to the substrate. For best results, the adhesive strips should be attached vertically and in small groups so that the air under the mirror or the metal sheet can circulate more freely. Applying strong pressure will produce a clean and instant adherence. For every square metre and millimetre of thickness, approximately 150 cm² mirror tape is required.
When working with wood it should be noted: neither mirror tape nor other double-sided adhesive tapes are suitable for use in bonding heavy panels of glass, metal or plastic to raw wood or unsealed particle board. The bonds will not hold very long because the fibres of the glued materials will loosen and with them the adhesive tape from the wood. It is therefore necessary that a wood surface be pre-treated (e.g. with a primer) before being bonded or sheet steel should be screwed onto it to serve as the substrate.
3M Scotch-Mount mirror tape 4032, 19.1 mm x 65.8 m