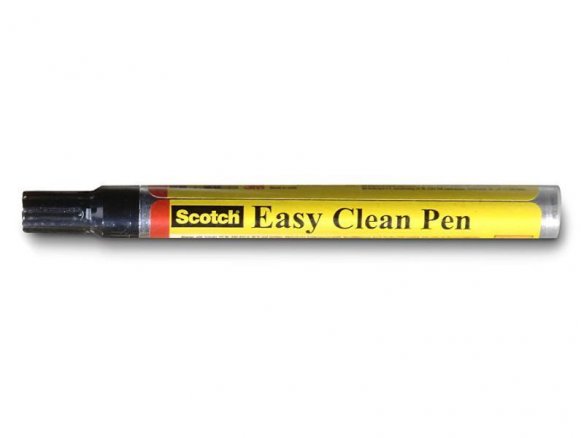 orange extract based cleaning pen for removing glue residue, label remainders and even stains and marks from felt pens; cleans oil, grease and dirt as well, hazard warnings: Xi irritant, N dangerous for the environment
The Easy Clean Pen gently dissolves and removes glue residue, oil, grease and dirt from metals, leather, glass, porcelain and some plastics. Stains or marks from felt pens can also be removed from, for example, table tops or walls. While cleaners from a bottle or spray bottle can only be used on relatively larger areas of dirt, the Easy Clean Pen's fine point allows it to do very precise, spot-on cleaning.
The area to be cleaned should be covered with an ample amount of liquid from the pen. After waiting a few minutes for it to work, the dirt or the degraded glue residue can be easily removed with a cloth or squeegee blade. In the case of more difficult residues or dirts, this process can be repeated. Before applying to any plastic material, an inconspicuous area should be used for testing.
3M Scotch Easy Clean Pen stick, 8.2 g
Note
The Easy Clean Pen is not suitable for use on some plastic materials – please test it on an inconspicuous spot before use.